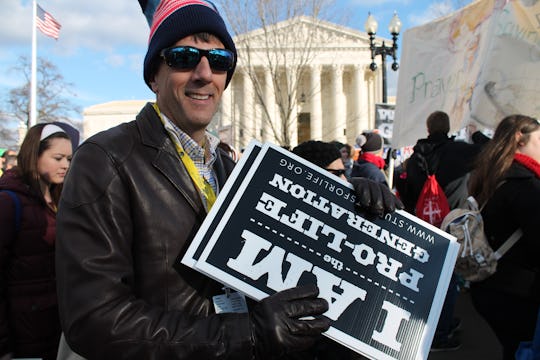 Elvert Barnes/Flickr
Arkansas Might Severely Limit Access To The Abortion Pill, But It's Entirely Unclear Why It's Good For Women
Federal Judge Kristine Baker will soon issue a written ruling with regards to a burdensome Arkansas abortion pill law set to go into effect on Friday, according to the WREG. The law would essentially make it very difficult to procure a chemical abortion in the state and would effectively force Arkansas' two Planned Parenthood clinics to stop providing abortions entirely. Women would be forced to undergo more expensive surgical abortions or would have to leave the state for care.
Arkansas Act 577 stipulates that a doctor providing the pills for a chemical abortion must maintain a contract with a doctor who has admitting privileges at a hospital, according to the Northwest Arkansas Democrat Gazette. A lawsuit filed by Planned Parenthood stated that this is impossible to fulfill; the organization has been trying to find doctors willing to contract with them since the law was passed in March, but it has been unable to do so, according to the Gazette. (Many doctors will not grand admitting privileges to abortion clinics because of politics and funding.) Since Planned Parenthood doesn't provide surgical abortions, this would leave only one other option in entire the state: Little Rock Family Planning services. The clinic has said that once the law goes into effect, it will only be providing surgical abortions at their facility.
Planned Parenthood is seeking a temporary restraining order and a preliminary injunction, arguing that the law in unconstitutional, and that it provides no health benefits to the women it purports to protect, according to the Gazette. The new law would also require women to take a higher dose of the medication and would only allow the medication to be prescribed until seven weeks of pregnancy instead of nine weeks of pregnancy — even though it's unclear what the medical reasoning is for that change, according to the Associated Press.
Colin Jorgensen, an assistant attorney general, claims that the law presents "no substantial obstacles in the path of a woman seeking an abortion," to which I reply, Do you even know what those words mean, Colin?
Meanwhile, the Supreme Court has just announced that it will hear Whole Women's Health v. Cole on March 2, according to MSNBC. The case will determine whether Texas can require abortions to be performed only in ambulatory surgical centers by doctors who have admitting privileges at a hospital within 30 miles of the clinic — a rule that would shut down more than 75 percent of Texas abortion facilities. More than half have already closed.
According to MSNBC, the governing standard for how far a state can restrict abortion access is the 1992 case Planned Parenthood v. Casey, which ruled that states could not pass restrictions that created an "undue burden," that is, one whose "purpose or effect is to place undue obstacles in the path of a woman seeking an abortion," which this law certainly seems to do. Whole Women's Health argues that the burdens are "grossly disproportionate to any possible health benefit," and the American Medical Association and the American College of Obstetricians and Gynecologists agree that it's completely medically unnecessary.
If the law goes into effect, Texas will have only 10 abortion clinics to serve its 5.4 million women of childbearing age. Going to a neighboring state may not even be an option, as many such states have enacted similar laws. Though abortion is a protected constitutional right, its clear that the archaic views of some people in certain states are continuing in their attempts to control women and stop them from accessing that right.
Image: Elvert Barnes, Debra Sweet/Flickr