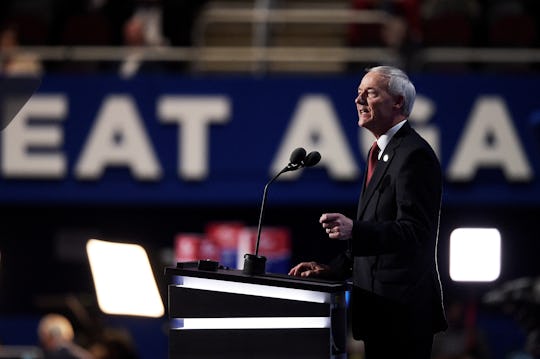 Jeff Swensen/Getty Images News/Getty Images
Arkansas's New Law Could Further Traumatize Some
On Wednesday, Arkansas Gov. Asa Hutchinson signed into law a bill that would ban sex-selective abortions within state borders. Although Arkansas joins seven other states that prohibit parents from aborting a fetus based on its assigned sex, the Southern state has passed a first-of-its-kind version of the legislation. Under Arkansas's law, doctors now must ask to see the medical history of any person who wants an abortion and knows the sex of the fetus. That one clause makes Arkansas' new abortion law cruel to women who have experienced pregnancy loss.
According to Vice News, physicians in Arkansas are required to obtain and review the person's medical history "relating directly to the entire pregnancy history of the woman" before performing an abortion. And the abortion could only be performed after a "reasonable time and effort" has been spent trying to get that history. That means a person may be forced to wait days and weeks to get a procedure they have a legal and constitutional right to. Not only that, women and other people who have experienced one or multiple pregnancy losses would be forced to relieve every detail of their traumatic experience before they can undergo a procedure they have a legal and constitutional right to.
Lourdes Rivera, senior vice president of U.S. Programs at the Center for Reproductive Rights, laid out bare in a statement everything that's wrong with this requirement:
Health care providers should never be forced to investigate patients for the reasons behind their personal, private decisions. When a woman has made the decision to end a pregnancy, she needs high-quality health care, not an interrogation.
Rivera also pointed out that sex-selection abortion laws like the one in Arkansas are "fueled by harmful and racist stereotypes." According to a 2014 University of Chicago Law School paper, politicians who often push these types of legislation invoke myths about "the problem with 'missing girls'" in China and India (both countries prohibit sex-selective abortion). But China and India do not have the highest male-biased sex ratios; in fact, the two countries with the highest ratio, Liechtenstein and Armenia, have predominantly white populations, according to the report.
According to Vice News, women made up nearly 51 percent of Arkansas's population in 2015.
Researchers with the University of Chicago Law School also found sex ratios at birth are not likely to change because of sex-selective abortion bans. That means these laws rarely achieve their stated intent. Instead, the researchers noted, when you dig into the legislative text and statements made in support, you quickly realize sex-selection abortions bills are less about "preventing discrimination" and more about restricting abortion access by any means necessary.
Arkansas' sex-selection abortion law, though, goes a step further by requiring doctors to review a patient's pregnancy history. And that one clause buried deep in the law only proves that Arkansas lawmakers aren't very concerned with "protecting" women from discrimination. More so, it would seem that Hutchinson and other state lawmakers who support this legislation would rather humiliate and traumatize people into carrying to term.