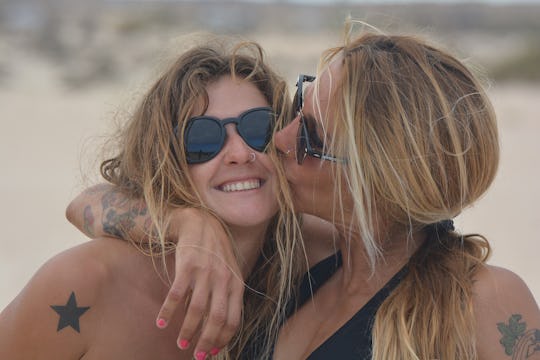 Arkansas Supreme Court Blocks Same-Sex Couples From Being On Birth Certificates In Yet Another Example All Marriages Are Not Equal
Earlier today, the Arkansas Supreme Court temporarily blocked a lower court's order which allowed same-sex parents to be named on their children's birth certificates. While the court will let the certificates issued to the three lesbian couples who had previously challenged the Arkansas Health Department stand, no further birth certificates will be issued. Just like that, with a vote of 5-2, this ruling proves that not all marriages are in fact equal (at least not yet, and definitely not in the eyes of the law).
On December 1, Little Rock Circuit Judge Tim Fox ruled that withholding the names of same-sex parents from from their children's birth certificates was unconstitutional. Fox wrote:
[This] decision affords the plaintiffs, as same-sex couples, the same constitutional rights with respect to the issuance of birth certificates and amended birth certificates as opposite-sex couples.
The state appealed Fox's ruling, saying it conflicted with Arkansas statutes and left birth registrars in legal limbo — and it seems the Arkansas Supreme Court agrees. In their decision they state, "the best course of action is to preserve the status quo with regard to the statutory provisions while we consider the circuit court's ruling."
Um. The status quo? Not so sure about that. In a study issued by the University of Colorado Denver, researchers found "overwhelming evidence" that same-sex parenting doesn't negativity impact children. In a press release, Jimi Adams, the associate professor of health and behavioral studies at the college noted:
I found overwhelming evidence that scientists agree that there is not a negative impact to children of same-sex couples.
In order to get this result, Adams' team analyzed data from thousands of studies. The result they determined from years and years worth of previous research led them to believe one very important, very vital finding: Children of same-sex parents are not harmed by same-sex parenting. So, uh, what was that you were saying about the status quo, Arkansas?
The setback doesn't just speak to the political climate in Arkansas — it references the temperature across our country. Even though the Supreme Court ruled gay marriage legal in all 50 states, states have been quietly finding ways to skirt around the ruling. Today's ruling in Little Rock is just another example of that. And this news comes at a time when we thought that America was making progress.
Unfortunately, fighting for visibility on their child's birth certificate isn't the only issue that same-sex parents are up against. Here are three other other benefits and rights they're still fighting for:
Adoption
While it is legal for same sex couples to adopt children, it is only legal in 16 states — Arkansas, California, Colorado, Connecticut, D.C., Illinois, Indiana, Iowa, Maine, Massachusetts, Nevada, New Hampshire, New Jersey, New York, Oregon, Vermont, and Washington. In almost every other state, the determination is made on a case-by-case basis by a judge; however, in Mississippi and Utah, same-sex couples cannot legally adopt children, at all.
Equal Employment
Believe it or not, lesbian, gay, bisexual, and transgender individuals are still not protected against workplace discrimination. While proposed legislation — the Employment Non-Discrimination Act, or ENDA — would ensure everyone in the United States has equal employment rights regardless of sexual orientation, it's yet to be approved. (And since it has been on the table since 1994, I'm guessing this is one law which isn't going to see the light of day anytime soon.)
However, while a federal ruling has not been made, some states have legislation in place to protect against discrimination on the basis of sexual orientation and/or gender identity. They are: California, Colorado, Connecticut, Delaware, District of Columbia, Hawaii, Illinois, Iowa, Maine, Maryland, Massachusetts, Minnesota, Nevada, New Hampshire, New Jersey, New Mexico, New York, Oregon, Rhode Island, Utah, Vermont, Washington, and Wisconsin.
The Ability To Donate Blood
While this is not a law, it is — without a doubt — still absolutely absurd. Men who have sex with other men cannot donate blood. Lesbians are a-OK, however gay men are not. According to the FDA, homosexual men, "as a group, [are] at [an] increased risk for [contracting] HIV, hepatitis B and certain other infections," but with the rigorous testing blood donations now go through, I'm still not totally buying this one. I think it is simply an antiquated policy, one which needs to be reviewed and revised.
What does all of this mean? It means while we have made great strides in the LBGT community, we (as a culture and a country) still have a long way to go.
Images: Pixabay (4)