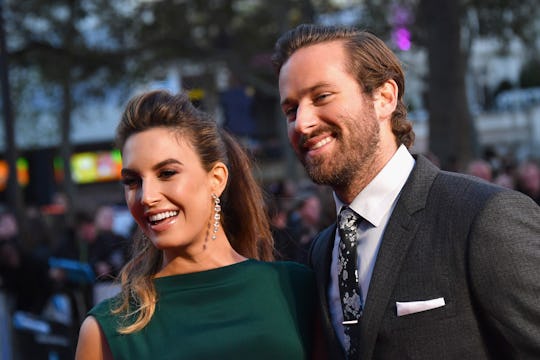 Gareth Cattermole/Getty Images Entertainment/Getty Images
Armie Hammer Almost Missed The Birth Of His Son
There probably isn't ever a good time to suffer a massive shoulder injury, but getting seriously hurt right before your wife is due to give birth has got to be one of the worst. Unfortunately, actor Armie Hammer almost missed the birth of his son for that very reason, according to ABC News, and although it must have been seriously stressful at the time, it's a pretty entertaining story.
Hammer, known for his role as the Winklevoss twins in The Social Network, is now a proud dad of two — in addition to 3-month-old Ford, Hammer and his wife, journalist and Bird bakery founder Elizabeth Chambers, are also parents to 1-year-old daughter Harper. But in a recent interview on Jimmy Kimmel Live, Hammer explained that shortly before his wife was due with their son in January, he "tore the pectoral muscle completely off [his] skeleton" during a gym session with his brother-in-law (ouch). When it became clear that he'd need surgery, Hammer tried to put it off, but in the end, his wife knew better. He said,
So, I'm walking around my house — really kind of hobbling — and my arm doesn't work. It's really kind of a sad thing. And my wife finally goes, 'You know what? Just go get the surgery. Honestly, you're not doing anybody any favors.'
Making things even more complicated? Chambers was overdue by the time Hammer's surgery date rolled around, according to Us Weekly. So the couple did the only thing they really could do: they crossed their fingers and hoped that their baby would stay put at least until Hammer's anesthesia had worn off. In a cute Instagram snap posted by Chambers three days before Ford's arrival, a hospital gown-clad Hammer could be seen kissing his wife's pregnant belly shortly before heading into surgery, accompanied by the caption, "Dear baby, Please don't come in the next 5 hours. Thank you, Mom and Dad."
Luckily for Hammer, he didn't actually miss his son's birth — but thanks to his heavy post-surgery meds, he said it almost felt like he did. As Hammer explained to Kimmel,
I go in for the surgery and then we're thinking, 'Now, I've had the surgery. I'll be able to help.' But really, what happened was I go in for the surgery and then I wake up in another hospital and all of a sudden my wife is having the baby. You know, 'cause I'm on medication and all that.
In the end though, everything worked out beautifully; Hammer's surgery was successful, and they welcomed a healthy baby boy. But despite Hammer's painful injury, it seems like the real champ of this story was Chambers: not only did she appear to keep her cool despite being overdue and ready to give birth at pretty much any moment, she somehow managed to make it all look ridiculously easy (and pretty glamorous too). In an Instagram post a few days after his son's birth, Hammer shared a photo of the foursome getting ready to leave the hospital, and gave his "strong and fierce" wife a special (and well-deserved) shout out:
This is our family. My wife, who is so strong and fierce she not only tried to walk herself out of the hospital room on her own two feet, but made that hallway look like a runway on the way out — I love you and am so impressed with you, wife. Harper, our perfect daughter who already tries to comfort and smother her younger brother with love and kisses. And the newest addition: our Son (future world heavyweight champ) #TheHammily
It's probably safe to say that Hammer's unexpected surgery was far from being welcome news for the couple, but it definitely seems like things worked out in the end. Hammer and Chambers haven't yet said whether they are open to having more children in the future, but if they do, Ford's birth story might make Hammer think twice before hitting the gym again just before his wife's due date.