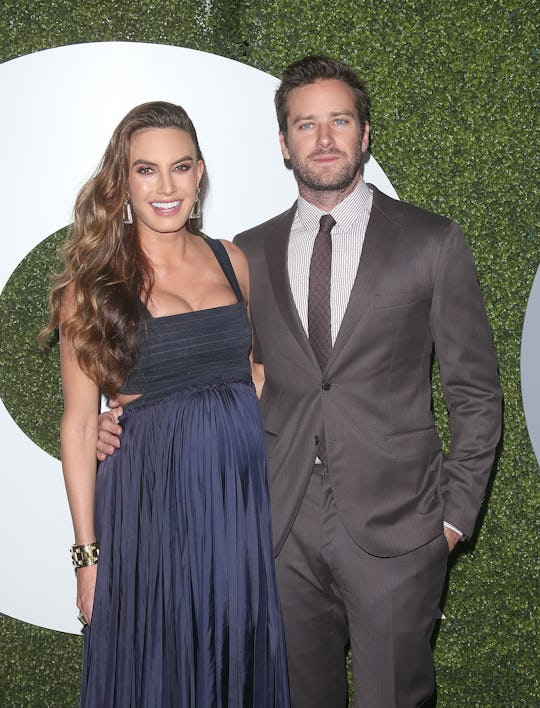 Jesse Grant/Getty Images Entertainment/Getty Images
Armie Hammer & Elizabeth Chambers Welcome 2nd Kid
Their daughter, Harper, celebrated her second birthday a month ago, and now, they have a whole new reason to celebrate: Armie Hammer and Elizabeth Chambers welcomed their second child, a boy, on Sunday, according to People. Although they have yet to release the child's name, Hammer's rep told the magazine that "both Mom and baby are doing great," with a source adding that "Armie and Elizabeth are overjoyed with their growing family."
The Lone Ranger actor (who also played the Winklevoss twins in The Social Network) and his wife, who owns the San Antonio-based BIRD Bakery, first announced their pregnancy on Chambers' Instagram account back in September, as the couple prepared to hit the red carpet at the Toronto International Film Festival. In the photo, Hammer touched Chambers' growing bump as she stood in a form-fitting dress, and in the caption, she wrote, "Dressed and ready for the premiere of #Freefire. And the premiere of baby Hammer Number 2!"
In October, Hammer told E! News that Chambers was having a really wonderful pregnancy, and, in fact, that she happens to love being pregnant. Hammer said,
My wife is like a professional pregnant woman. She doesn't get tired. She doesn't get sick. She doesn't complain. She still exercises. She seems like she loves being pregnant and is built to be pregnant. She really enjoys it. She will tell me, 'I really like being pregnant. I feel great.'
From the sounds of it though, it's not just pregnancy that agrees with Chambers. According to People, Hammer explained in an interview on Jimmy Kimmel Live! shortly after their pregnancy reveal that he and his wife had also so far had a really easy time raising their daughter:
I don't know if our daughter's easy or if we've just been winging it the right way, but we haven't had too much of a plan and it's all kind of gone all right. I guess the only reason we're all here is because raising babies works. I think people — especially new parents, at least I did — underestimate the resilience of human survivalism. Like, this thing is going to survive. That's the only reason it's here.
Hammer also told Kimmel that, although he was sure there would be "a serious adjustment period," for her once the new baby arrives, so far, Harper was totally psyched at the prospect of having a sibling.
She loves it. I mean, she seems to love it now. If you go, 'Where's the baby?' she'll rub Mama's belly and kiss her stomach. It's really cute.
Hammer and Chambers wed in May 2010 in Beverly Hills, but in 2013, Chambers told Town & Country that it took a little persuading from her smooth-talking husband to get her to agree to his proposal. According to The Daily Mail, Chambers told the magazine,
When we finally got together, Armie really wanted to get married. He sat me down and said, 'Look, we don't have to do this. We could just go our own ways, and then one day you'll be 40 and divorced and we'll run into each other, and we'll laugh and go out to dinner and have this same connection, and we'll wonder why we wasted all of that time. Or we could just do it now and enjoy the ride.'
But given the way he's spoken about his experience meeting his wife, it's no surprise that he was so straightforward. In 2012, Hammer told Momtastic that he fell in love with Chambers instantly:
I do believe in love at first sight, but I wouldn't if I didn't experience it ... I remember everything [my wife] was wearing the first time I saw her, and that was almost six years ago at this point. I would say for young people who think they've found the one, it's a commitment ... And if you think you're ready to make it, I say don't take it lightly but do it. It's the greatest thing that ever happened to me.
Neither Hammer nor Chambers have commented yet on what they decided to name their little boy, but there are a few names he probably won't end up with: Hammer joked to Jimmy Kimmel that they "[were] thinking Jack, or Michael Charles, and he can just go by M.C." Either way, it's pretty clear that he's been born into a family with a whole lot of love and laughter — with likely many more adorable Instagram posts still to come.