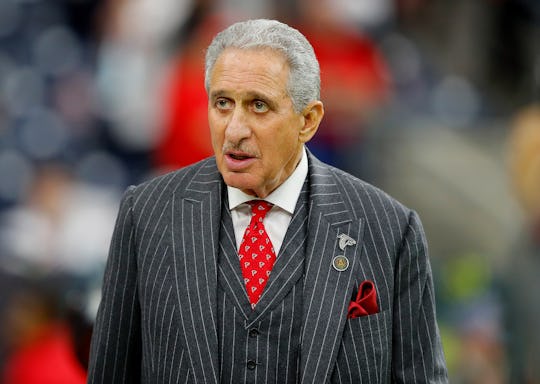 Kevin C. Cox/Getty Images Sport/Getty Images
Let These Arthur Blank Dancing Memes Give You Life
It's time to face some music — no, not the kind that Lady Gaga makes, but the bleak kind. Because after all these glorious Super Bowl shenanigans are over, we'll all have to head back to the office on Monday morning, no matter how many mini hot dogs we perilously ingested. The good news, though, is that these Arthur Blank dancing memes at Super Bowl 51 may just be enough to soothe the bitter sting of returning to the working world after all the #raging that is going on tonight.
To be fair, Arthur Blank, owner of the Atlanta Falcons and co-founder of Home Depot, has plenty of reasons to be dancing tonight — as of half-time, his team is beating the New England Patriots 21-0. But now the only thing vying for the internet's attention as much as the Falcons lead is their owner's, er, creative dance moves. And I'm going to be honest — as a person who is a notoriously terrible dancer, I've decided that no matter which way in the wind this new meme blows, it has been an inspiration to people with questionable dance coordination everywhere.
One of the most iconic memes of the night starts with our very own Josh Peck, of Drake and Josh renown, who narrated the live proceedings.
Since then the internet has taken to sharing not only this moment, but all the #TBT dancing Arthur Blank moments your soul could possibly need. Buckle up, friends, because Twitter is about to deliver some Arthur Blank celebratory real sauce to a screen near you.
Arthur Blank At Half-Time Like ...
No matter how sick your Super Bowl party is right now, it's nowhere near as lit as whatever is happening in the Falcons locker room during half time.
This Glorious Twerk ... Thing
Is this from NFL footage, or b-roll from Taylor Swift's "Shake It Off"? Either way, digging it.
Place Your Bets, Y'all
Honestly, as long as he dances, everyone wins this Super Bowl.
Proof That Anything Can Be A Dance If You Believe Hard Enough
Warning to my friends and fam: fully intend on incorporating this particular move into my repertoire immediately.
A Little Bit Of Dance Inspiration For Us All
May we all aspire to be as baller as this.
Just In Case You Wanted A Tutorial From The Master ...
You're welcome, America. YOU'RE ALL SO VERY WELCOME.