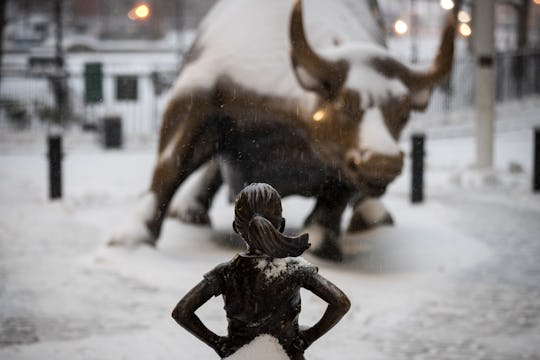 Drew Angerer/Getty Images News/Getty Images
Artist Puts A Urinating Dog Statue Next To "Fearless Girl"
If you've been to New York City in the past few months, you may have seen the bronze statue known as "Fearless Girl" staring down the iconic charging bronze bull statue on Wall Street. On Monday, sculptor Alex Gardega put a urinating dog sculpture next to "Fearless Girl" because apparently, a statue of a little girl standing up to an economic system that has been historically male-dominated is just too much. Gardega did not immediately return Romper's request for comment. While Gardega's statue didn't last more than three hours — the artist himself removed it — his temporary installation has already made quite the statement.
Gardega told NBC 4 News that most of the passersby who saw it during his sculpture's brief stint were "amused or perplexed" by the work. Not so, according to The New York Post, who reported that one woman kicked the urinating dog statue as she walked by it, calling in an "*sshole move" by the artist. Other critics took to social media to call out Gardega's work for what it really is: An overt display of male fragility masked as a poor attempt at being artistically "edgy." Despite these criticisms, Gardega insists he isn't "seething or angry and certainly not anti-feminist" when he spoke with NBC — but his work speaks volumes to the contrary.
"Fearless Girl" was commissioned by Boston-based financial firm State Street in March to commemorate International Women's Day. What was supposed to be a temporary installation for the month of March has become an international sensation, with New York City Mayor Bill de Blasio extending "Fearless Girl's" installation until at least February of next year.
The "Fearless Girl" statute has largely gained acclaim for its evocative imagery of female empowerment, positioned across from artist Arturo Di Modica's "Charging Bull" sculpture. Di Modica has been openly critical about Visbal's sculpture, telling reporters in an April press conference that "'Fearless Girl' violated his legal rights. Mayor de Blasio called bullsh*t on that pretty much instantly by tweeting, "Men who don't like women taking up space are exactly why we need the 'Fearless Girl.'"
And that's also what makes Gardega's peeing dog statue so repulsive and offensive — not its half-assed construction and crude imagery. Despite his claims that it was created with a "sense of humor," he told the Post his statue was intentionally made "crappy to downgrade the statue, exactly how the girl is a downgrade to the bull." So, by his own words, Gardega isn't anti-feminist, but he views "Fearless Girl" as a downgrade to Charging Bull.
He also told the Post what motivated him to craft his "Pissing Pug" in the first place. "This is corporate nonsense," Gardega said of the "Fearless Girl" sculpture. "It has nothing to do with feminism, and it is disrespect to the artist that made the bull. That bull had integrity." But yanno, disrespecting the artist who made "Fearless Girl" is just a-OK in his book.
Gardega should really admit to himself what his statement really is: His own fragile masculinity that just can't handle the representation of a young woman claiming her own power. No matter what Gardega may say to the press, his peeing dog statue is a sad reflection of what women in America face daily in a climate where a rich misogynist is president, a national health care bill would strip away vital health coverage from millions of women, and state legislatures are going after reproductive choice with rabid fervor.
So, good on 'ya Gardega, for proving once again that masculine fragility is alive and thriving in this country.