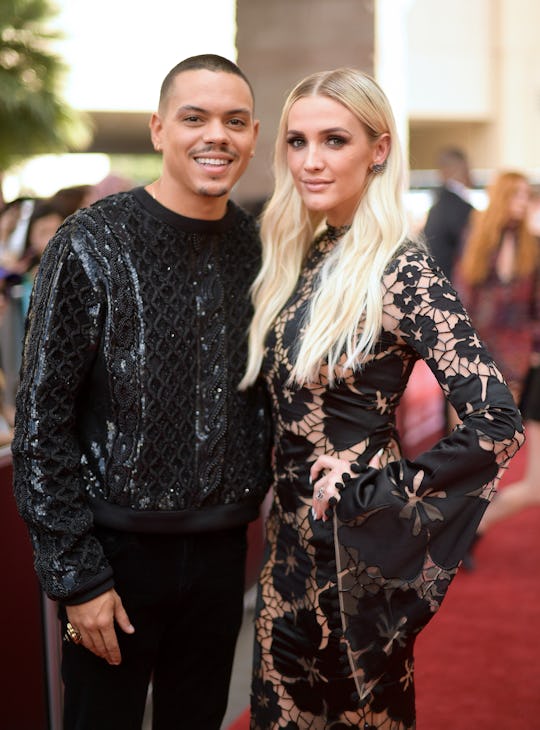 Matt Winkelmeyer/Getty Images Entertainment/Getty Images
Diana Ross Broke A Major Rule During Daughter-In-Law Ashlee Simpson's Labor
When it comes to giving birth, every woman feels different about exactly how she hopes it'll go down. For some, having their nearest and dearest in the delivery room feels comforting, while others want to keep the event as private as possible. But what happens when your parents and in-laws just can't help themselves? When their 2-year-old daughter Jagger Snow was born, Ashlee Simpson and Evan Ross' parents snuck into the delivery room before they'd been given the green light by the couple, and though that wouldn't sit well with some couples at all, it sounds like the couple took their surprise appearance in stride.
Ross told People that spotting his mom, Diana Ross, as well as Simpson's parents, behind the hospital room curtain was probably the most memorable moment of their daughter's July 2015 birth. And there's good reason for that: Ross and Simpson didn't actually want anyone else in the room for their baby's arrival. But as upsetting as that would be for some women, Ross said that, when your mother-in-law is *the* Diana Ross, your birth plan requests are really only suggestions: as he explained to the magazine, "Those nurses can't stop my mom! Like, Diana Ross just walks in."
The good news, at least? Simpson seems to get along well with her in-laws. In Feb. 2017, actress Tracee Ellis Ross told Watch What Happens Live that she was super tight with Simpson, who is now her sister-in-law, according to Bravo TV, and that they "hang out a lot, actually." What's more? Not only has Simpson referred to her MIL as "Mama D" on Instagram, Diana Ross actually had a huge role in her 2014 wedding: according to Us Weekly, the couple not only married at her house in Connecticut, she also officiated the ceremony, and sang "Endless Love" at the reception. And after tying the knot, the couple even decided to legally change their last names to Ross to honor the music legend, according to Billboard (Evan's last name is actually Naess, after his late father, Arne Naess Jr.).
These days, the couple also sounds pretty proud to see that their daughter may have inherited her grandmother's talent. Earlier this month, Ross told E! News that Jagger was "a little star already," and Simpson added that she takes after famous "Ami" in that she "wants the sparkles and the microphone!" And she's actually already had some practice: in Nov. 2017, Jagger had a chance to accompany her legendary grandmother on stage as she accepted a Lifetime Achievement Award at the American Music Awards.
As "memorable" as the experience of having Jagger's birth crashed by their parents may have been though, it definitely hasn't seemed to put the couple off of the idea of having another child. In March, Simpson told The Raw Word's Claudia Jordan that she'd "love to have more kids," and that they were "definitely having another one" together in the not-so-distant future, according to E! News.
Might there be more children to come after that? Simpson seems open to the idea. Simpson — who also shares a 9-year-old son, Bronx, with ex-husband Pete Wentz — told Jordan that "being a mom is [her] number one thing in life," and added, "our kids are incredible."
Honestly, the idea of sneaking into the delivery room when you've specifically been asked not to seems totally over the line in my opinion, even if you are Diana Ross. But it doesn't sound like the couple was too upset about it — and, to be fair, it seems like Simpson's parents ignored the couple's wishes as well. With their next baby, at least, Ross and Simpson will know that they'll have to be really firm if they don't want any surprise visitors. Perhaps waiting to inform their parents that they have a new grandchild until after the baby is born might not be a bad idea?