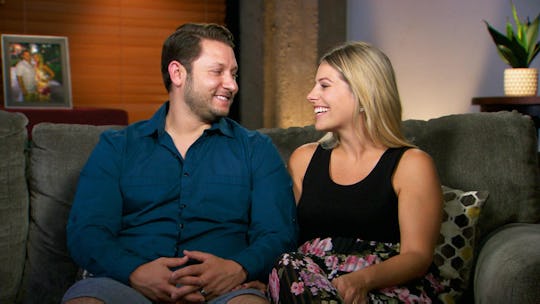 Lifetime
What This 'MAFS' Couple Wants You To Know About Their Marriage
Ashley Petta and Anthony D'Amico's relationship didn't get the most conventional start. The couple met at the altar as part of Lifetime's popular reality series Married at First Sight. Now on the spinoff, Happily Ever After, and expecting their first baby, I had some burning questions. Most of all, Ashley and Anthony want you to know that their marriage is just like everybody else's — even if their love story got a very unique start. In an email interview with Romper the couple talk babies, arranged marriages, and family.
To catch up, Ashley and Anthony got married on Season 5 of Married at First Sight in Chicago. They both came from big Italian families, and they both said that having kids was important to them (like really important). Both they and their families hit it off right away, and it was pretty much smooth sailing from there on out — at least it appeared that way. Like any married couple, Anthony and Ashley didn't agree on everything, but like the most successful married couples, found a way to work through their differences. Now, it has been more than two years since these two met, got married, and fell in love (in that order), and from the looks of things, life couldn't be better.
If you were a little skeptical of this whole process, rest assured, Ashely was too. "I believed that it could work but went in with low expectations so if it didn't I wouldn't be too disappointed," she says. But Anthony was perhaps a little more confident, and for good reason. He had an example. "My grandfather was actually in an arranged marriage so I definitely believe they can work since I witnessed their love." It's true that while arranged marriages aren't exactly popular in the United States these days, they have been popular for centuries. And some people argue that they really work.
Though many of the couples on the show had a rough time getting to a good place in their new relationships, Anthony and Ashley were surprised by their lack of issues. "The most surprising part of our marriage was how easy it was in the very beginning — unexpectedly easy," they explain. Of course, no relationship is perfect, and the couple admit that they do still struggle with communication since they both have very different styles. And now, communication is about to be more important than ever considering the little one they're about to welcome into their lives.
Ashley says that the best part of pregnancy is feeling the baby move. "It's amazing to think about how I am actually growing a little human," she says, admitting that, "The worst part is just being uncomfortable all the time." Romper gets it, baby girl. While the couple is so excited to welcome their little one, they both agree that expecting a baby has also been one of the most frightening parts of their marriage. They say that this new chapter in their lives comes with "making a lot of big scary decisions."
As for what they want all of you to know, it's that their marriage is just like anybody else's. "We just feel like any other married couple living and prepping for our future. We don't even really think about how we were strangers in the beginning. That feels sooooo long ago…"
You can check out Ashley and Anthony's new life on the Married at First Sight spinoff. Married at First Sight: Happily Ever After premieres Tuesday Oct. 30 at 10 p.m. ET on Lifetime.