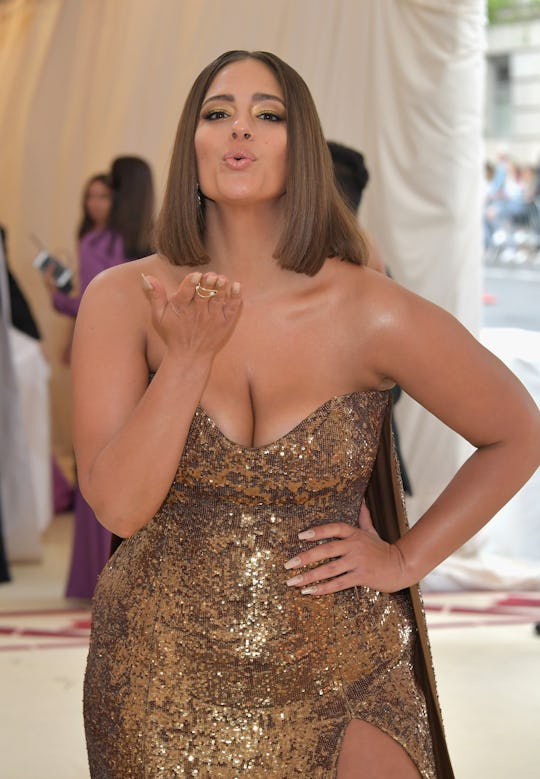 Neilson Barnard/Getty Images Entertainment/Getty Images
Ashley Graham's Response To Someone Commenting On Her "Baby Bump" Is Just Perfect
Body-shaming is still a huge issue in society, with women being criticized and trolled on social media for the way they look on an all too frequent basis. But, some women are making it clear that they have no time for these games and aren't afraid to respond. For example, Ashley Graham's response to someone saying she looked pregnant is too perfect to miss and is all about body positivity.
Graham is an American model, who has appeared on quite a few magazine covers such as Vogue, Harper's Bazaar, Glamour, and ELLE. She also appeared on Jezebel's "Five Plus-Size Models To Watch" list. In her time, Graham has dealt with quite a few situations around body-shaming. Once, according to Glamour, she opened up about boyfriends who broke up with her because they were afraid she'd be "too fat" later in life.
Now, most people know not to assume someone is pregnant. It's a lesson that most people usually learn pretty early on from their parents, because it can be rude, presumptuous, or awkward, depending on the situation. You never know what's going on in someone's life, so it's always best not to speculate on what's happening inside their uterus — it's just that simple.
Trolls never rest, though, and Graham had to shut down some people again on her Instagram. After sharing a video of herself dancing on July 17, one user commented about the model's supposed "baby bump".
In the video, Graham can be seen wearing a pink bikini while listening to Drake. "my tues morning💕👙💋🎀," Graham wrote in her caption.
"Good Morning… Ashley!!!!$ Looking good…. Baby bump…. :)))))" commented one user.
And how did Graham respond? "That's just called fat," she replied.
Other users were quick to come through with some body positive messages of support for Graham.
"Thank you for giving us curvy girls the confidence to love our bodies and flaunt them. @ashleygrahamyou are gorgeous," one user wrote.
Another commented, "@ashleygraham that is called perfection n you own that confidence n kill it oh my 😍😍😍😍😍 you inspire me to be more confident 😌"
This isn't the first time Graham has had to deal with situations of body-shaming on Instagram. Back in October, Graham responded to Instagram commenters who criticized her for making workout videos. After posting a workout video, one user commented, "She actually works out? How is she still so fat?"
As a response, Graham made a separate Instagram post, which said,
Just for the record, I workout to: stay healthy, feel good, get rid of jet lag, clear my head, show big girls we can move like the rest of 'em, stay flexible and strong, have more energy, I don't workout to lose weight or my curves, because I love the skin I'm in.
The message that Graham sends is so important. A person of any body weight should never be harassed or questioned about their intentions for being in the gym, dancing, or doing anything at all. People are allowed to do whatever makes them feel good; any comments related to their body, especially when it's coming from strangers, are simply unnecessary.
Back in 2016, Graham addressed that culture of being shamed, no matter what, in an essay for Lenny Letter. In the essay, Graham discussed social media and the toxic comments found there, writing:
To some I'm too curvy. To others I'm too tall, too busty, too loud, and, now, too small — too much, but at the same time not enough. When I post a photo from a "good angle," I receive criticism for looking smaller and selling out. When I post photos showing my cellulite, stretch marks, and rolls, I'm accused of promoting obesity. The cycle of body-shaming needs to end. I'm over it.
Although it's ridiculous that Graham has to put up with these types of comments, it's beautiful to watch as fans continue to flock to her photos and videos with words of support. And keep on watching this model, because she's definitely going places.