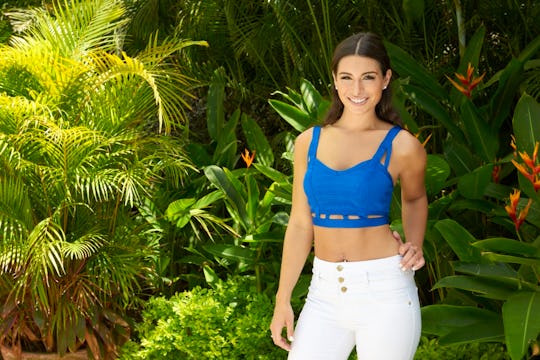 Bob D'Amico/ABC
Ashley Iaconetti Being A Virgin On 'Bachelor In Paradise' Shouldn't Be A Spectacle
The Bachelor Nation franchise, in its almost-15 years of existence, has made quite a few questionable editing and thematic decisions over the past decade-plus. They've always had a sort of iffy stance on sex and sexuality, especially when it comes to women. Unfortunately, that weirdness is all too apparent in the way that Bachelor in Paradise has chosen to handle the topic of one Season 3 cast member's virginity. Ashley Iaconetti being a virgin on Bachelor in Paradise shouldn't be a spectacle, and it's super inappropriate for the series to treat it that way.
Ashley also appeared in Season 2, and was (obviously) also a virgin then, but she was much more in control of her own narrative at that point. Yes, the fact that she was a virgin was heavily discussed, but it was because Ashley herself was debating whether she should lose her virginity to Jared, the guy she was interested in all of last season. In the end, they didn't have sex, despite Ashley really wanting to snag a Fantasy Suite date card to use with Jared – Ashley clarified that she got to "second base" with Jared, when Chris Harrison asked her during her Season 3 intro.
Much was also made of her virginity over on Chris Soules' season of The Bachelor, where she was sorta characterized as "The Crying Virgin" until she was eliminated by Chris in Week 6. To be fair, she does cry a lot (and she's aware of it, having set a three-cry limit for herself that she quickly blew through on the August 16 episode of Bachelor in Paradise Season 3). But again, bringing up her virginity was on Ashley, both in The Bachelor and Season 2 of Bachelor in Paradise.
But the third season just took the fact of Ashley's virginity way too far in an extremely odd and distasteful manner. Midway through a date with Daniel – a date she went on simply because he was the only pseudo-available guy at the time and her would-be boo Jared was firmly with Caila – a group of people in what were apparently supposed to be "Aztec warrior" costumes (according to PEOPLE Magazine) swept Ashley away. Why? Because a virgin "needed to be sacrificed." Yep. Basically, it was a strange and insensitive (and, y'know, culturally appropriative) joke.
Ashley has been very clear that she wants to lose her virginity to a man that she loves and one she's in a monogamous relationship with, a sentiment that she echoed to Daniel when he brought up her virginity and quizzed her about whether she was interested in losing it "anytime soon." Obviously, that Ashley's personal choice, and it's discomfiting to see the show make a joke out of that – with a culturally insensitive bit, no less. Not very cool, Bachelor Nation.