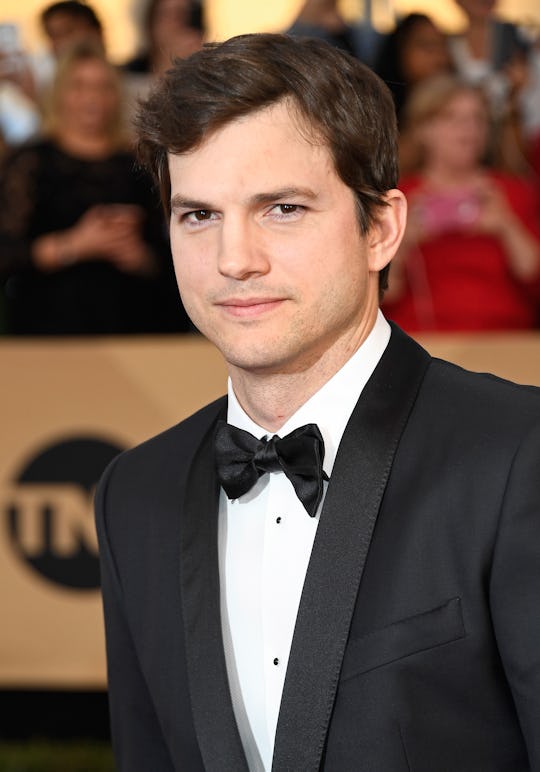 Frazer Harrison/Getty Images Entertainment/Getty Images
Ashton Kutcher Blew A Kiss To John McCain
Hollywood and Washington collided once again on Wednesday, when Ashton Kutcher blew a kiss to John McCain on the Senate floor, leaving many to ask, à la David after Dentist, "Is this real life?" While Kutcher is perhaps best known for starring on That '70s Show (or, in the senator's case, Dude, Where's My Car?), he's also the co-founder of Thorn, an organization that fights child sex trafficking. On Wednesday, he testified before the Senate Foreign Relations Committee at a hearing entitled "Ending Modern Slavery: Building on Success," according to The Hill.
Kutcher explained that he was inspired to create Thorn, which uses technology to identify and locate trafficked children, after the Department of Homeland Security was unable to locate a young girl whose rape had been captured on video and posted to the dark web, the Washington Post reported. "It haunted me," Kutcher testified. "I had to go to sleep every night and think about that little girl who was still being abused, and the fact that if I built the right thing, we could save her. So that's what what we did. And now, if I got that phone call, the answer would be 'yes.'"
In case it wasn't clear to the Senate and audience what business Kutcher had speaking at the hearing, he spelled it out right at the top of his speech: "This is about the time, when I start talking about politics, that the internet trolls tell me to stick to my day job. So I'd like to talk about my day job. My day job is as the chairman and the co-founder of Thorn. We build software to fight human trafficking and the sexual exploitation of children." Most may know him as an actor, but that's not all he does.
That's why it was was incredibly disheartening when Republican Arizona Sen. John McCain told Kutcher, "You were better looking in the movies." The joke received a few chuckles, and Kutcher smirked and blew McCain a kiss in return. But reducing Kutcher to his looks and his acting disrespects the hard work he's done with Thorn, and joking about someone's attractiveness during a discussion of sex slavery feels inappropriate. Furthermore, Republicans can no longer credibly claim that actors should stay out of politics when their party is now led by a former reality show host. McCain may be more critical of President Donald Trump than most party members, but it's too little, too late. If he trusts Trump enough to confirm every one of his cabinet picks, is it too much to ask that he take Kutcher – and his eight years of experience with his foundation – seriously?