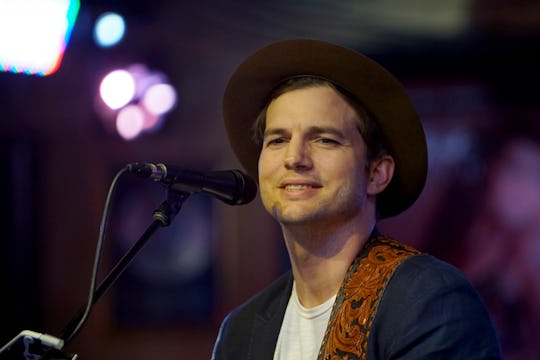 Anna Webber/Getty Images Entertainment/Getty Images
Ashton Kutcher Says Raising His Daughter Has Been Different
There's nothing quite like welcoming another baby into the family to make you realize that, actually, you probably didn't know nearly as much about parenting as you thought you did the first time around. Ashton Kutcher and wife Mila Kunis welcomed their second child last November, and during an appearance on The Tonight Show Starring Jimmy Fallon Wednesday, Ashton Kutcher joked that his daughter is more advanced than their son — a reality the actor said he wasn't exactly prepared for.
According to Us Weekly, Kutcher joked that having a son made him realize that there might actually be a big difference between raising boys and girls. He told Fallon that he'd since learned that "girls advance apparently faster than boys" developmentally, and that it certainly appeared to be true when he compared his little boy, Dimitri, to his 2-year-old daughter, Wyatt. Kutcher said,
My daughter is, like, 2-and-a-half, and she speaks three languages. She's got, like, Russian and Spanish and English. She actually understands and speaks them. The boy is just like, a thuck.
But from the sound of it, even if Wyatt weren't able to speak multiple languages, she'd still have had her brother beat. After joking that his son sounds like a "pterodactyl," Kutcher admitted that while Dimitri could say "mama," he doesn't seem to be in any rush to say "dada." He told Fallon,
I can't get 'dada' out of him ... [With] Wyatt, I had her [saying] 'papa' at four months. She was like, 'papa, papa' ... and the boy is like, 'BAHHH!'
Kutcher also revealed that being a dad has meant that he's become a bit of an expert in kids' movie soundtracks — and that they've even started to infiltrate his daily life. In a funny exchange with Fallon, Kutcher responded to the talk show host's comment about the actor's Netflix show, The Ranch, by breaking into "You're Welcome" from Moana, catching Fallon off-guard.
When the host then asked, "are you singing Moana to me?" Kutcher admitted that he "can't stop singing Moana," and explained,
My daughter loves this [movie], and I'm like, in Whole Foods walking around, and I'll hold the door for someone, and they'll walk in, and I'm like, 'What can I say except you're welcome...'
Ashton Kutcher might be all about Disney movies and baby milestones these days, but in an interview on The Howard Stern Show Wednesday, he explained that, at first, his relationship with Kunis didn't exactly seem like it would ultimately translate into marriage and babies.
According to TODAY, Kutcher said that when he and Kunis first got together, he wasn't looking for anything serious, given that he was newly single at the time:
She's like, 'You're not ready to be in a relationship' and I'm like, 'I'm not ready to be a in a relationship' ... It was funny because I'd just done this movie called 'No Strings Attached' and she just did a movie called 'Friends with Benefits' and we legitimately lived out our movies.
Today, though, the couple has been happily married since 2015, and Kutcher seems to be one adoring dad, too. In April, the actor accepted an award from Drake University in Iowa, according to The Huffington Post, and spoke about how profound the experience of having kids has been for him. He said,
When my wife and I had these kids and we got to share that amazing, amazing, amazing honor, my first response was, I wanted to call my parents and say, 'I'm sorry, because I never knew how much you loved me.'
Even though Kutcher may not have necessarily expected that he and Kunis would eventually be married two kids, it sounds like he's loving life as a husband and father. And while quoting Disney films in his daily life might not be the coolest thing he's ever done, it's something that pretty much every parent can relate to, whether they'd like to admit it or not.