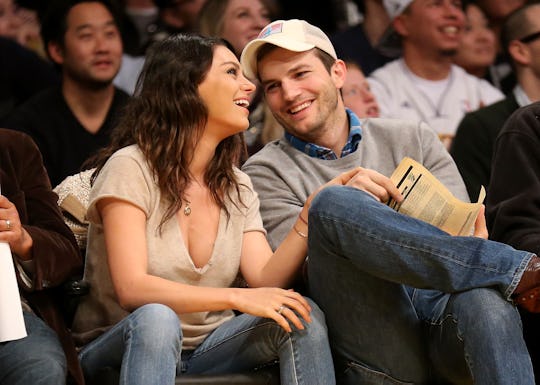 Stephen Dunn/Getty Images Sport/Getty Images
Ashton Kutcher Says Mila Kunis Was A Refugee
In the wake of President Donald Trump's highly controversial executive order banning the entry of Syrian refugees, along with citizens from a number of Muslim-majority countries, into the United States, many celebrities have joined the public fight against Trump's so-called "Muslim ban." One of those celebrities is Ashton Kutcher, who took to Twitter Sunday to slam the President's decision, and to note that, for him, the ban felt both personal and political. In a series of tweets, Ashton Kutcher said Mila Kunis was a refugee who came to the United States from the Ukraine during the Cold War, and called for compassion and acceptance of diversity now that those in Syria have been barred from getting the same opportunity.
According to Us Weekly, Kunis — who married Kutcher in 2015, and who now shares two children with the actor — was born in Ukraine and grew up under communist Russia until she was 7 years old. She then moved to Los Angeles with her family on a refugee visa in 1991, later landing a role in That '70s Show, where she and Kutcher first met. Despite being fairly well off in Russia, Kunis told The Telegraph in 2011 that they arrived in the United States with only $250 to their name, and that they had to struggle to make a new life for themselves on American soil.
It might be hard to imagine that some like Kunis could relate so closely to the plight of the refugees currently being denied entry into the United States, particularly because so much of the rhetoric surrounding the situation has painted those individuals and families as potential terrorists who require "extreme vetting."
On Sunday, Trump defended his executive order (entitled "Protecting the Nation From Terrorist Attacks by Foreign Nationals"), and argued, according to CNN, that it was actually similar to one ordered by President Obama in 2011. But the reality is that Trump's plan is much more restrictive: where Obama slowed the consideration of refugee applications from Iraq for six months, Trump has suspended all refugees admissions for the next four months, has prohibited the entry of Syrian refugees indefinitely, and has also blocked anyone from seven different Muslim-majority countries in the Middle East — specifically Iraq, Iran, Somalia, Sudan, Syria and Yemen — from entering the United States entirely, according to BBC News.
In July, Kunis spoke to Glamour magazine about the experience of being a Jewish refugee leaving Russia for what her parents hoped would be a better life in the United States, and her frustration over the many Americans' reluctance to allow Syrian refugees to do the same thing. Kunis said,
The whole Syrian-refugee thing — we came here on a religious-refugee visa, and I'm not going to blow this country up. I'm clearly paying taxes. I'm not taking anything away. So the fact that people look at what's happening and are like, 'Pfft, they're going to blow sh*t up'? It saddens me how much fear we've instilled in ourselves.
And even though they were still much better off in Russia than many of the others who fled, Kunis said that the experience of leaving their home country behind was a grueling one:
My parents went through hell and back. They came to America with suitcases and a family of seven and $250, and that's it. My parents, for years, worked full-time and went to college full-time. They would go to night school to learn English. My mom started working at Thrifty in Culver City as a box lady. That's what she did until she learned English; then she became a cashier. My dad worked—f**k if I know—seven jobs? He painted a house. He would deliver toilets. He drove a cab, delivered pizzas. Whatever he could do, he did.
That's a story that many Syrian refugees who have been accepted into other countries will recognize. In an interview with The Guardian in 2015, a 20-year-old Syrian refugee named Mohammed whose family arrived in the U.K. a year earlier told reporter Amelia Gentleman that, while life hasn't been easy for them, they — and many other refugee families just like them — are working hard to establish their new lives, and contribute to the countries that have taken them in. He said,
These families who live [here], they are working. They are not staying at home, they are not taking money from child benefit and jobseekers' allowance – they've found work as butchers, taxi drivers, or in restaurants.
I hope to be a doctor. When I am a doctor, I will help this country. Many of my Syrian friends, they are working hard – in business, engineering, pharmaceuticals – they want to work. We will be good people in this country; we won't be drug dealers. We will build the country.
Like many Syrian refugees, Mohammed spoke of having a good life in his home country prior to the war, but after his father was killed in Damascus in 2013, his family left to try and find some safety in Egypt before ultimately being accepted into a UN refugee program and sent to the U.K.. Given the number of Syrians who have had to resort to dangerous travel by boat in the hopes of escaping though, Mohammed said he knew his family got very lucky, according to The Guardian:
I have a friend ... who travelled from Libya to Italy by boat a year ago. He arrived, but his sister died on the journey; she was left in the sea. I think it cost him about $1,200 to $1,500 to make that crossing. The boats are cheap and small and not safe. The person who manages the refugees puts about 1,000 people in the boat, when they are built for 200. For this reason, many are dead in the sea.
As Kutcher's tweets so aptly point out, it is far too easy to forget that behind the headlines about Muslim bans and refugees, there are real people who are desperately trying to find safety for themselves and their families after their homeland was torn apart by forces completely outside of their own control.
While there's no denying that ensuring that the country's borders are safe and secure for those who already live here is important, painting all refugees as dangerous potential terrorists undermines the reality that the vast majority of them are actually innocent victims. And like Kunis and her family were in the '90s, they are just looking for an opportunity to live a safer, more prosperous life.