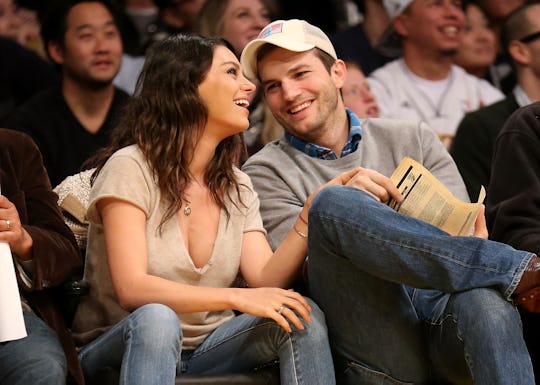 Stephen Dunn/Getty Images Sport/Getty Images
Ashton Kutcher Gives Emotional Speech About His Kids
Character is not about your ability to score a touchdown, win a contract, or land that book deal. It's about your mistakes and failures, and how and what you learn from them. That was Ashton Kutcher's message this weekend at the annual "An All-Star Evening" fundraiser at the Ron Pearson Center in West Des Moines, Iowa. The 39-year-old actor returned to his home state on Saturday to receive the Robert D. Ray Pillar of Character Award for his humanitarian work. Though he was being honored, Ashton Kutcher's emotional speech about Mila Kunis and his kids showed that it's the people around you who make your character stronger.
According to E! News, Kutcher thanked Kunis, who he married in 2015, for kicking "my ass on character" during his 16-minute speech. Kutcher and Kunis, who had a fictional relationship on That '70s Show, began dating in 2012 after ending their long-term relationships, respectively. The couple have two children together, daughter Wyatt Isabelle, who's almost 3 years old, and son Dimitri Portwood, who was born in November 2016.
Kutcher dedicated the Robert D. Ray Pillar Character Award to the Black Swan actor and his family, including "all four of my parents," because if not for them, he would not be "the lucky one." Kunis, in particular, has humbled him, Kutcher said, because she has put their roles as parents into perspective. More importantly, he said, "the greatest, greatest lesson in character" in his life are Wyatt and Dimitri. He told the crowd,
When I had these kids, my wife and I had these kids and we got to share that amazing, amazing, amazing honor, my first response was, I wanted to call my parents and say, 'I'm sorry, because I never knew how much you loved me.'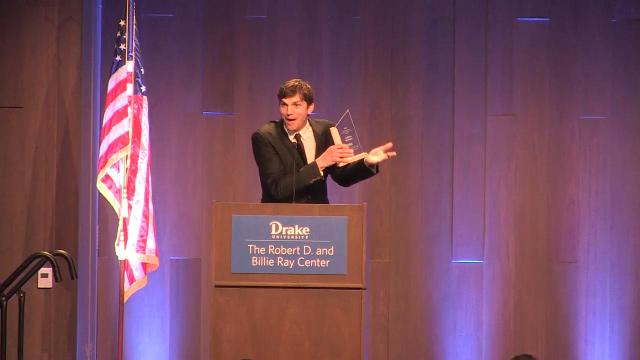 Kutcher also paid an emotional tribute to his twin brother, Michael, who was born with cerebral palsy, a condition that affects motor function. Before he mentioned Kunis, Kutcher talked about how he was born a twin and "from the moment I came into this world, I had to share it with someone," according to Hello magazine. That meant sharing birthdays, holidays, bedroom, clothes — "everything I had in this world," Kutcher said. "I didn't know that there was another way because I always had my brother with me."
The Jobs actor went on to say that his brother, Michael, showed him that "loving people isn't a choice and that people aren't actually all created equal." He continued,
The Constitution lies to us. ... We're all created incredibly inequal to one another, in our capabilities and what we can do and how we think and what we see.
Despite this, his brother taught him that everyone has the "equal capacity to love one another," Kutcher said. The That '70s Show alum also recognized how he has been ableist towards his twin, subconsciously positioning his talents above Michael's. But, as Twin Cities Pioneer Press pointed out in a 2012 profile, Michael is a successful motivational speaker and sales executive. To that end, Kutcher said,
When I got older, I spent years and years feeling bad about it, our inequalities. He also taught me that he had gifts that I didn't have. Extraordinary gifts that I didn't have, and that every time I felt sorry for him in life, I made him less. He taught me that and he gave that to me.
As Kutcher said, character is not who you are, but how you are — how you respond to situations, how you treat others, how you learn from your mistakes. But the strength of your character is not your own doing, and it seems Kutcher recognizes that without the people he loves most in his life, he wouldn't be the person he is today.