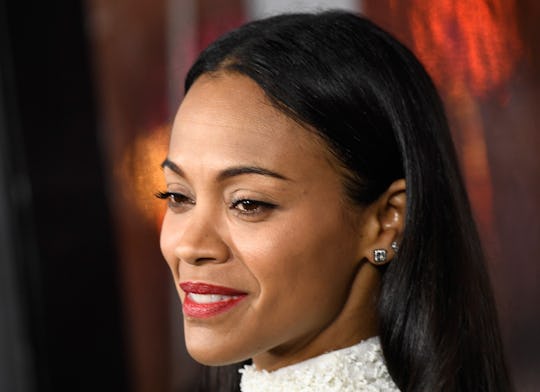 Frazer Harrison/Getty Images Entertainment/Getty Images
Asking If Zoe Saldana Was Pregnant Is Invasive
Welcoming a baby to the world is an exciting time and it should always be celebrated, no matter how the little bundle of joy got here. That's why asking if Zoë Saldana was pregnant is completely invasive and it isn't the right question to ask after the 38-year-old actress and husband Marco Perego announced the arrival of their third child on Saturday. While many fans congratulated the Guardians of the Galaxy star on her family's newest addition, others replaced their excitement with speculation and couldn't stop questioning whether Saldana was pregnant before she announced the surprising news as she didn't appear to have a baby bump in any recent sightings. But, quite frankly, if she was pregnant or she wasn't is none of our business.
Of course, celebrities are in the public eye and there is certainly an expectation that they must meet this demand for details. But, that isn't a fair request — especially when it's something as personal as this. Asking this question only takes away from this exciting and special time in their lives. Whether she was secretly hiding her baby bump from the world, they adopted, or used a surrogate, it isn't anyone's business.
The mom of now three little boys chose not to disclose how she welcomed her son, who they named Zen. "Marco and I are elated to share the news of the the birth of our son Zen. We couldn't feel more blessed with the new addition to our family. #threeboys... oh boy!" Saldana captioned the adorable photo of her two twin boys, Cy and Bowie, on a colorful play mat with their new younger brother wearing a red-pattered onesie.
Saldana's baby news is only the latest in a wave speculation surrounding other celebrity pregnancies. Beyoncé and Amal Clooney, for example, recently announced that they both were expecting twins and everyone immediately assumed that both pregnancies were the result of IVF.
Again, it's not anyone's business, but people jumped to this conclusion because multiple rounds of IVF can get very expensive and it has a higher likelihood of multiple births than unassisted conception. All of this is simply gossip hungry speculation that takes the focus away from this special time.
If you take the celebrity factor out of the equation, then it makes complete sense. Imagine you announced the arrival of your child and instead of your social media notifications piling in with congratulations, your followers bombarded you with questions about how your baby was conceived. Celebrity or not, that is super invasive.
Celebrity gossip can be addictive and we sometimes forget that public figures are also entitled to their privacy. Maybe one day Saldana will set the record straight for her curious fans, but we need to remember that she is under no obligation to do so. If she does, then great! But don't be bummed if she never does. Instead of speculating, let's share this excitement with her and look forward to stories about all of the mischief three little boys can get themselves into.