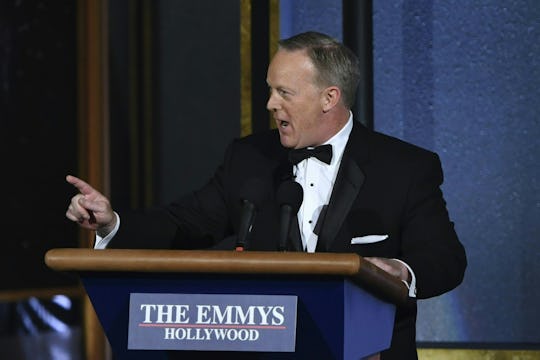 FREDERIC J. BROWN/AFP/Getty Images
Sean Spicer Showed Up At The Emmys, & You Need To See Melissa McCarthy's Reaction
Award shows usually have a bit of shock and awe in store for their audiences. But nothing prepared everyone who was watching The Biggest Night In Television for the moment when Sean Spicer appeared at the 2017 Emmys. Yup, you read that right: the former White House press secretary made a cameo at the 69th Emmy Awards — and the audience just couldn't handle it.
Just as host Stephen Colbert finished his monologue, Spicer appeared from behind a moving podium — just as Melissa McCarthy had notoriously done months ago while guest-starring on Saturday Night Live. And while every reaction was truly priceless, McCarthy's was the one to see because it was, well, perfect. She looked awkwardly delighted, yet totally shocked.
As one Twitter user described it, McCarthy's reaction "silently says: 'This is amazing and terrible and my stricken expressions speak for the audience at home.'" Yup, that's it. Nailed it.
But it wasn't just Spicer being there that had celebs and the audience at home in awe. Spicer also poked fun at the infamous press conference he gave regarding the crowd at President Donald Trump's inauguration in January, according to The Hollywood Reporter.
"This will be the largest audience to witness an Emmys, period. Both in person and around the world," Spicer said while at the podium, as recounted by The Hollywood Reporter.
Colbert reportedly responded, "Wow, that bruised my fragile ego... Melissa McCarthy, everybody!"
McCarthy wasn't the only shocked attendee at the 2017 Emmys. Veep actress Anna Chlumsky, for instance, held nothing back with her reaction:
Modern Family stars Julie Bowen and Sarah Hyland looked as if they could not wait to see what would happen next.
House of Cards star Kevin Spacey just laughed it off as if he wasn't sure whether this was actually funny or inappropriate.
Indeed, a lot of people were taken aback by Spicer's appearance on Sunday night. People on Twitter were conflicted about bringing Trump's former press secretary out on stage, saying that doing so "normalizes" his performance as a White House staffer, especially since he hasn't necessarily faced any consequences for how he handled his role.
Spicer resigned from his White House position back in July, which was reportedly "a long time coming," as Esquire reported at the time. "For months, reports have continually surfaced that President Trump was unhappy with Spicer's performance at the podium during press conferences," the magazine reported over the summer.
And not long after Spicer's departure, he told The Hollywood Reporter that he has "been humbled by the amount of interest, and now that I've completely left government, I'll be looking to engage in those discussions." Since then, he's reportedly been talking book deals and "making cameo appearances or acting as a sort of consultant on shows that 'have a political or current events focus,'" according to The Hollywood Reporter.
Who knew that the 2017 Emmys would be one of those? This is hardly Spicer's first Hollywood appearance — in fact, he has appeared on late night television, including a recent appearance on Jimmy Kimmel Live! when the host pressed him on that notorious crowd size claim at Trump's inauguration. Spicer told Kimmel:
I think in all seriousness that, whether you voted for him or not, the president won the election, he faced a lot of headwinds, and I think there was a faction of people out there that didn't want to give him the credit he deserved... Look, your job as press secretary is to represent the president's voice and to make sure you are articulating what his visions are on policy, on issues, and on other areas that he wants to articulate. Whether or not you agree, is not your job. But ultimately he's the president, he decides and that's what you sign up to do.
Yes, Spicer's appearance at the Emmys was met with an awkward round of applause and jaws on the floor. But, there's a point to be made about the repercussions that could come from comedians and Hollywood bringing him to these platforms. People were shocked, and they had their reasons.
Watch Romper's new video series, Romper's Doula Diaries:
Check out the entire Romper's Doula Diaries series and other videos on Facebook and the Bustle app across Apple TV, Roku, and Amazon Fire TV.