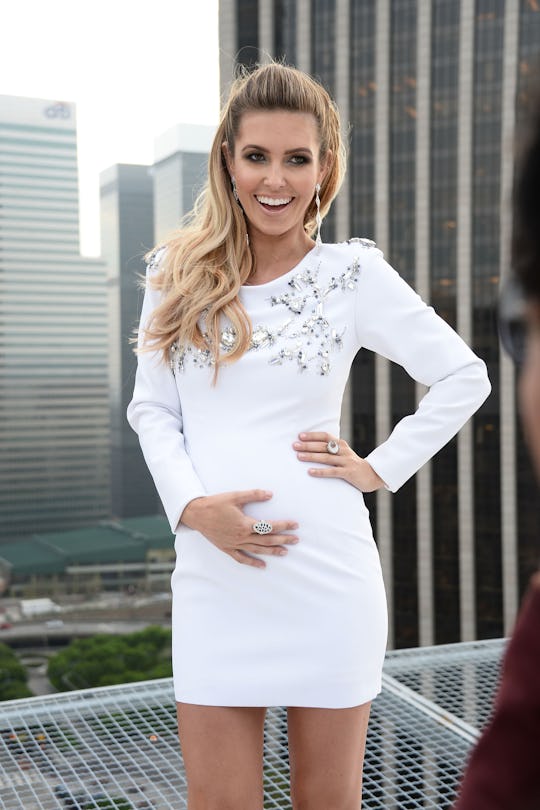 Matt Winkelmeyer/Getty Images Entertainment/Getty Images
Audrina Partridge Posts A Breastfeeding Photo, & Actually Gets Support
The conversation about breastfeeding in public got plenty of momentum when moms started posting breastfeeding photos online. Whether they're celebrities or not, many who shared their pictures weren't met with a primarily positive response. It's refreshing, then, that one celeb's snapshot is actually earning more commendation than criticism. Audrina Patridge's breastfeeding photo got plenty of props from moms who just want to feed their babies in peace.
Patridge welcomed her daughter with fiancé Corey Bohan on June 24, according to People. Kirra Max Bohan weighed 8 pounds and 4 ounces at birth, and Patridge's rep reported that both mom and baby were doing well. Patridge formally announced the big news in a blog post on July 1, in which she explained the origins of the name Kirra Max Bohan: Kirra ties to a favorite Australian "surf spot," and Max is Patridge's grandfather's name. In the post, Patridge asked for privacy but revealed that she's absolutely in love with being a mom:
To tell you the truth, I haven't stopped staring at her since she arrived. There are no words to describe the amount of love I have for her… I never thought I could feel so many feelings for someone so small.
Though Patridge hasn't shared many photos of her baby and hasn't released a formal portrait yet, she did post a breastfeeding image to Instagram. The caption read, "@caseyloza always capturing a moment.... Nursing Kirra while trying to find the perfect wedding dress.. #professionalmultitasker#itscrunchtime."
Publishing the picture put Patridge in a position of vulnerability, but BuzzFeed reported that the reality star's post got a warm reception from fans. Instagram user nanatthedisco wrote, "I love this picture so much ! Only a nursing mom can understand how perfect this is!" Commenter allyssabobisa wrote, "Keep up the breastfeeding!!! It's such a beautiful process, don't let anyone tell you different! @audrinapatridge you're going to have a bond like no other!" Other users took to the comments to offer encouragement to breastfeeding moms. Commenter dtla_neighbor wrote, "...I personally think that be able to bf is a blessing but a hardship somehow. Looks like you are doing great!" User micaelaam wrote, "the first month is by far the hardest. It gets so much better. The pain does go away!" Negative comments are always expected, but Patridge's post turned into a moment of international mom bonding: the post currently has more than 26,000 likes and over 130 comments.
Posting a breastfeeding photo isn't Patridge's only example of parenting bravery; she actually used a mirror to watch her own C-section surgery from behind the curtain! In a blog post titled "My Birth Experience," Patridge wrote that she had a C-section after finding out that her baby was breech. She described the numerous methods she and Bohan employed to try to get Kirra to flip, but they didn't have any luck.
Now, Bohan and Patridge are planning their wedding, according to E! News. But instead of a romantic honeymoon for two, Patridge is planning to take baby along on vacation, enlisting her sister as a babysitter. Patridge says she's grateful to have the support of family as a new mom; luckily, her social media fans seem to be offering plenty of support, too.