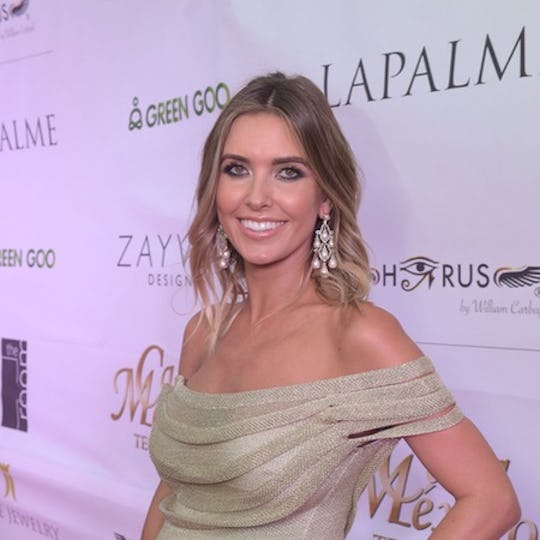 Jason Kempin/Getty Images Entertainment/Getty Images
Audrina Patridge Shared The First Photo Of Her Baby & It's Beyond Cute
Former reality TV star Audrina Patridge seems to be loving everything about motherhood, from showing off her adorable baby bump to enjoying sunny walks with her brand new bundle of joy. After giving birth to her first child just last week, Audrina Patridge shared the first photo of her baby on Instagram on Friday and it's beyond cute. The Hills alum and her fiancé Corey Bohan welcomed their first child, daughter Kirra Max Bohan, on June 24.
"Baby Kirra's first walk in her adorable pram" the 31-year-old actress and blogger captioned the Instagram photo with a link to a blog post about giving birth and the couple's new adorable addition to their family.
"I am in heaven on Earth! She weighed a perfect 8 pounds 4 ounces, and we couldn't be happier to finally hold her in our arms," Patridge wrote on her blog The Inside Out on Friday, July 1, one week after giving birth. "To tell you the truth, I haven't stopped staring at her since she arrived. There are no words to describe the amount of love I have for her… I never thought I could feel so many feelings for someone so small."
Her fiancé, an Australian extreme sports guy, posted the same photo to his Instagram page, which shows their little girl's tiny feet in pink sock poking out of the pram as the new mom smiles over her. "It's just the three of us now & I wouldn't have it any other way," Bohan captioned the photo.
The 1st Look TV host posted photos to Instagram as her baby bump grew, starting with her announcing the pregnancy back in December on Instagram with a photo of her holding a positive pregnancy test. "I finally figured out what to get Corey for Christmas!" Patridge captioned the photo.
Patridge wrote on her blog that she was lucky to only have only a few problems during her pregnancy after hearing horror stories about "miserable pregnancies" and "labor nightmares."
"The only thing I ended up dreading was my C-Section," Patrdige wrote on her blog, posted on July 1. "Kirra just wasn't feeling the flip… Can you really blame her, though? However, now that it is all said and done, I couldn't be happier to have a healthy, strong little girl — my scar is nothing but a battle wound!"
"Everyone has been waiting so patiently for photos and comments from me, but I have been soaking up every second with Kirra, Corey, and our families," Patridge wrote on the same blog post to address requests for photos of baby Kirra. "As far as photos go, we will post soon. Until then, we appreciate your respect in allowing us to enjoy these special moments with our daughter in private."
The photo of little Kirra might just be a little peek at her tiny toes and of course the world would like to see a snap of her darling face, but it's completely understandable and perfectly OK that the new parents want to soak up all this new magical baby time all to themselves.