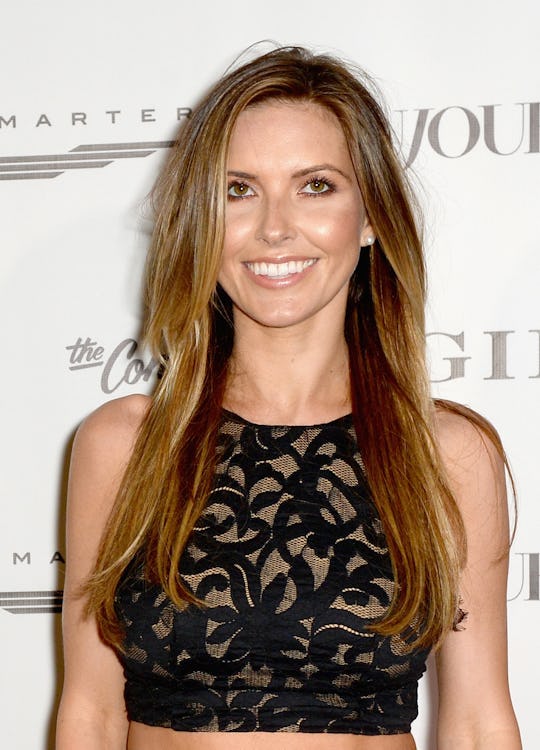 Gustavo Caballero/Getty Images Entertainment/Getty Images
Audrina Patridge Knows Your Breastfeeding Struggle
Breastfeeding is not the most glamorous thing in the world, which is why Audrina Patridge's recent breastfeeding comments are oh-so-very welcome. This week, the former reality star of The Hills and mom of one told People, "Up until now, I haven't really had time to shop for myself or worry about myself. I am always multitasking, so for me right now, being comfortable is the best." But she didn't stop there when it came to voicing almost every new mom's feelings about how sweet it feels to finally be (almost) done with breastfeeding.
"I am just weaning her off so now I can start wearing more structured shirts — I don't have to be so worried about breastfeeding all the time," Patridge said, joking, "Now I can start wearing my cute tops again and I am fitting back into all of my jeans and my shorts, so I am getting my fashion back."
Good for her, right? Of course, any mom who breastfeeds is happy to be the main source of food for their child, but it also can be a real pain in the butt (or chest?). Patridge, of course, isn't the only celeb who feels every other breastfeeding mom's pain. Model and Twitter queen Chrissy Teigen has been open about the struggle as well, telling People last July, "I'm like, 'Is it working? Is it taking? I don't think I'm feeling enough pain!' You just get so confused about how it's supposed to feel, and as hard as anyone said it was, I feel like it somehow managed to be harder."
If both Patridge and Teigen are behind you, you know you're doing something right (or possibly wrong, breastfeeding can be tricky like that).
Notorious reality star Kim Kardashian has even felt torn about the whole process. "This 4 am feeding really kills me. I'm like delirious," Kardashian tweeted last January.
Basically, it's safe to assume Patridge isn't alone in her wish to get the crop top game back on. And hey, no judgement ever when it comes to wanting to look your best and get the babies away from you. That's not bad parenting — that's supreme self-care.
Patridge welcomed baby Kirra into the world in August. At the time, the new mom said, "She sleeps 6-7 hours a night (only waking up once or twice) and is pretty laid-back (unless of course she's hungry, has to burp, needs a diaper change or gets restless!)."
Oh, how fast they grow up, right? It makes sense that Patridge would also want to just get back into her own rhythm too. Breastfeeding, parenting, or fashion-wise, Patridge is a baller for standing up for her own decisions. It's not easy out there for new moms — kudos to her for keeping her cool.