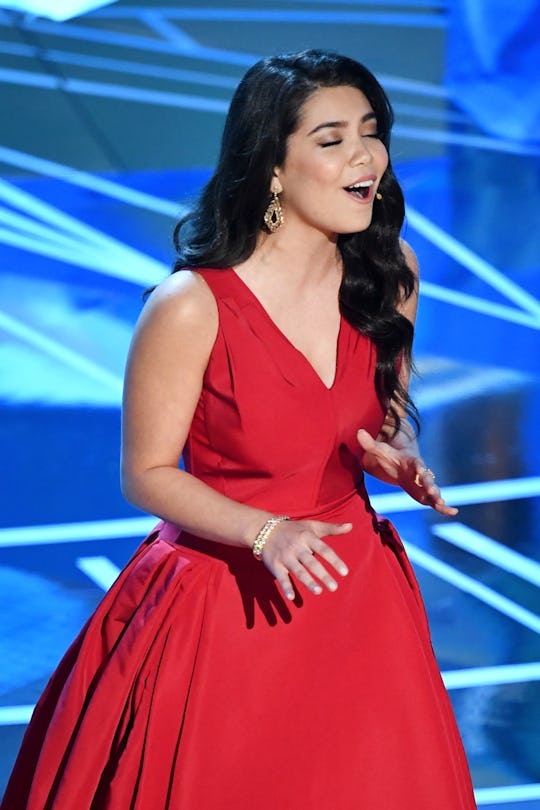 Kevin Winter/Getty Images Entertainment/Getty Images
This Version Of "How Far I'll Go" Will End You
Brace yourselves. Remember the adorable daddy-daughter musical duo who captivated the internet with their covers of Disney classics? If you were one of the millions blown away by their renditions of "You've Got a Friend In Me" and "Part of Your World" posted on YouTube, then you'll need to mentally prepare yourself for the beautiful cuteness that happened when Moana title character actress Auli'i Cravalho and 4-year-old Claire Ryann sang "How Far I'll Go," one of the film's hit songs, which was nominated for an Oscar on Sunday.
This is only the latest viral hit for Claire and her dad, Dave Crosby, who are known for the their YouTube channel, Claire and the Crosbys, which has more than 42 million views since they started it last January. On the channel, they post adorable videos of the youngster singing Disney hits, and Claire's dad also puts together movie reviews and short videos of the tot talking about silly things like bugs and Valentine's Day. It's a cute collection of kid jibber jabber that will definitely brighten your day.
While the adorable family resides in Seattle, Washington, they have fans all over the world and eventually caught the attention of Ellen Degeneres, who invited them to come on her show last month and, most recently, to sing with Cravalho — and it's too cute to handle. In the first three hours since a video of the visit was posted on the ellentube Facebook page, the video had more than 6 million views.
Watch the beyond adorable video below to see why:
If your heart just melted, don't worry, that's totally normal. Thousands of viewers commented on the video's cuteness and people couldn't get over Claire's focus and facial expressions as one of her dreams came true.
"This wee girl doesn't take her eyes off Moanna [sic] and sings like a wee champ!" one comment on Facebook read. Another viewer wrote, "This little beauty doesn't just sing, she feels the music... You can see it in her eyes, on her face, and in her body language."
More viewers were so impressed with Claire's talent at such a young age and wrote that they couldn't wait to see what she would accomplish in the future, once her voice had matured.
Claire and her dad appeared on DeGeneres' show on Monday, following 16-year-old Cravalho's beautiful performance of the song at the 89th annual Academy Awards ceremony on Sunday night, where she and Hamilton creator Lin-Manuel Miranda took the stage together.
Both girls have already stolen millions of hearts all over the world and with the beautiful musical talents they share, there's really no telling how far either of them will go.