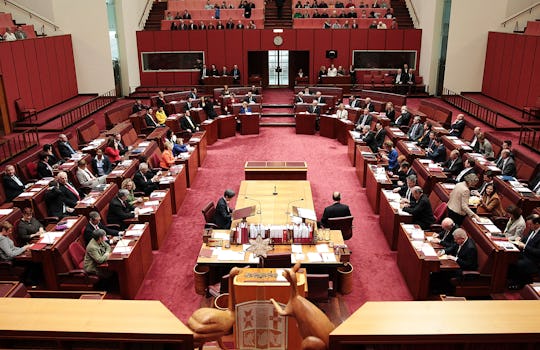 Stefan Postles/Getty Images News/Getty Images
Australian Politician Breastfeeds On The Parliament Floor
Although it's impossible to "have it all," there is some hope for mothers in the working world. After an Icelandic lawmaker did it last year, an Australian senator decided to breastfeed on the Parliament floor this week, making a few waves herself. Larissa Waters came back from her 10-week maternity leave on Tuesday and brought her 2-month-old daughter, Alia Joy. And as babies are wont to do, Alia got hungry during the legislative session.
Instead of removing herself from the conversation or being forced into some small feeding room, Waters did what any woman should be able to do. She breastfed her daughter on the floor — just like women everywhere should be able to do, since breastfeeding is a completely natural and necessary thing. (As is cradling an infant and bottle feeding them, if that's what a mom prefers or needs to do.)
Better still, it was a great way for Waters to live up to her legacy. As the co-deputy leader of the Australian Greens party, Waters fought to extend the Parliament's breastfeeding rules last year to include caring for an infant on the floor. Senators had always been allowed to breastfeed in the chamber since 2003, but Waters was the first to actually do it.
Waters said on her way into work this week that she was looking forward to taking advantage of the law she helped pass. "If she's hungry, that's what you do, you feed your baby," Senator Waters told the Courier Mail.
The times have definitely changed in Australia. Eight years ago, Australian Green's senator Sarah Hanson-Young had her 2-year-old, Kora, taken right out of her arms and was removed from the senate floor. Hanson-Young didn't have anyone to watch her toddler that day and brought her into work so that she could participate in a vote.
That incident sparked a huge debate about whether children should be allowed in the workplace or not. There are plenty of jobs where a parent just really couldn't have their child with them for safety reasons. But the Parliament isn't exactly a dangerous place.
Some members of Parliament claimed that children were "too distracting." Commissioner for Children and Young People Gillian Calvert made a good counter argument in Hanson-Young's defense. "There doesn't seem to be a problem with screaming adults in the Parliament, so I don't think noise is the issue," she said. (Touché.) Now 8, Kora still plays around the building while her mother is working.
Waters had the same feeling going in on Tuesday. She added in her statement to the Courier, "I hope she doesn't squawk her head off too much, but she's probably going to be better behaved than many of the people in that room." Although Alia is usually with her father, who works at a digital marketing agency, he can now bring his daughter into Parliament when she needs a little mom-time.
A lot of the pushback about allowing children in the workplace seems to come from men who might not have to worry about caring for their own children as much as their female partners do. But the times are changing, and women like Waters and Hanson-Young are leading the cause, hopefully showing women that there's nothing holding them back from a life in politics, or any other industry that seems too be not-so-parent friendly on the surface.