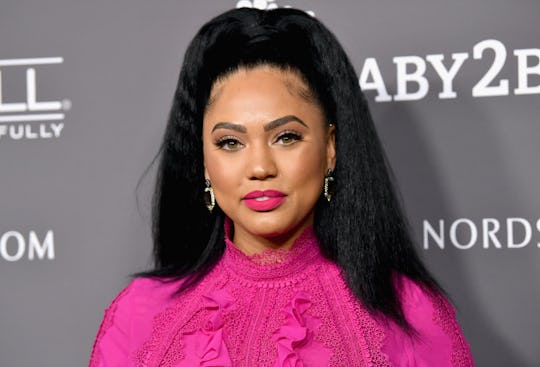 Emma McIntyre/Getty Images Entertainment/Getty Images
Ayesha Curry Had The Perfect Response To A Mom-Shamer Criticizing Riley's Hair
When you're a parent, you inevitably have to deal with someone commenting how you're raising your kids. They might have issues with the food they eat, the clothes they wear, or, apparently, their hair. Celebrities are exposed to mom-shaming on a whole other level and it can be frustrating to see. Ayesha Curry's response to a mom-shamer criticizing her daughter's hair is the perfect clapback.
Ayesha Curry is a celebrity cook and television personality, but she's also well known for her adorable family. On July 30, 2011, she married NBA player Stephen Curry, as noted by Biography. They now have three children together: Riley Elizabeth, born in 2012; Ryan Carson, born in 2015; and Canon W. Jack, born in 2018.
Out of the Curry's three kids, most fans know Riley, especially from the time she stole the show during one of her dad's press conferences. Ayesha is active on social media and regularly shares updates about all three of her kids, though.
Most recently, Curry posted a video of herself and Riley. In it, she and Riley are re-enacting a Progressive "Meat Sweets" commercial using Dubsmash. She's known for creating Dubmash re-enactments, so it was cute to see this moment with her daughter!
"She's getting so big y'all. I hope she'll always love being silly with me. My big girl," Curry wrote as the video's caption.
A lot of fans were quick to say something supportive.
"You do you girl! I love your family and feel so blessed that you allow your fans to be a small part of it. Bless the 5 of you," one user commented.
"So cute mommy and daughter moment, she is getting so big beautiful like her mommy , but looks just like her daddy," another added.
There was one critic, though, who commented on Riley's hair in the video, saying, "Lawwd have mercy, whyyy don't you know how to brush them girls' hair??? Drives me nuts!!! Still a love you, but d*mn Ayesha."
For Black girls especially, there's a lot of stigma around hair. That's part of what makes a comment about Riley's hair sad to see. Curry was quick to comment back in defense of her kid, writing:
"I don't make moments happen for Instagram. Moments happen and I sometimes share. I'm not going to doll up my children for perception or anyone's approval on here. If that's what you want to see then this is not the page for you. Real life over here."
This isn't the first example of celebrity mom-shaming and moms have had to perfect their responses.
Once, when criticized for breastfeeding in public, TODAY reported that Mila Kunis said, "Why did I do it in public? Because I had to feed my child. She's hungry. It's so not a sexual act ... If it's not for you, don't look."
Still, it's sad to see people shame moms for perfectly normal things, and to see people making comments about kids' hair. Ayesha Curry is lucky to have plenty of fans, though, who always point out how adorable her kids are!
This first-time mom wants to have a home birth, but is she ready? Watch how a doula supports a military mom who's determined to have a home birth in Episode One of Romper's Doula Diaries, Season Two, below. Visit Bustle Digital Group's YouTube page for the next three episodes, launching every Monday starting November 26.