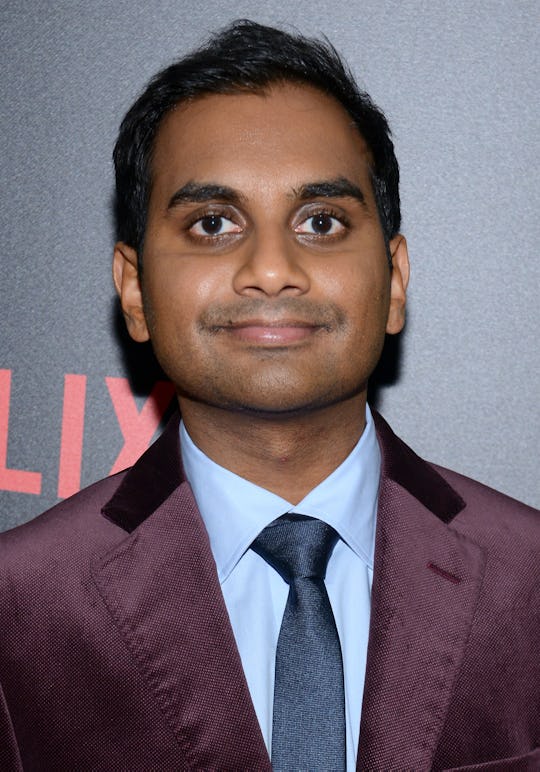 Noam Galai/Getty Images
Aziz Ansari Calls Out Hollywood On Its Lack Of Diversity, & He Is Absolutely Right
Aziz Ansari might be a successful actor and comedian who has sold out Madison Square Garden, starred in four popular comedy specials, and who created (and is starring in) the new Netflix series, Master of None, to rave reviews. But as a visible minority, Ansari knows Hollywood has a major diversity problem, and in a brilliantly written essay published in the New York Times Tuesday, he totally called it out. In it, he writes about how excited he was as a kid to see an Indian lead character in the 1988 American film Short Circuit 2 (because, how often does that happen?), only to learn years later that Fisher Stevens — the actor in the main role — wasn't actually Indian at all, but a white guy in brownface. Sigh.
As disappointing as this was for Ansari, the anecdote is valuable — and still incredibly relevant, 28 years later. Even though people of color are represented more now than they were in the 80s, questionable ethnic casting choices are still made all the time. As Ansari points out in his essay (and also in a totally on-point episode of Master of None), the character of Divya Narendra, an Indian-American Harvard student in The Social Network, ended up being played by Max Minghella, who was actually half-Chinese, and half-Italian. But there are plenty of other recent examples to pick from too, like Emma Stone playing Asian-American Alison Ng in Aloha, Rooney Mara as the Native-American character Tiger Lily in Pan, or James D'Arcy as Korean character "The Archivist" in Cloud Atlas. 
But it's not just a reluctance on the part of casting directors to give parts to people of color. After struggling to find older Indian actors to play his parents on Master of None, Ansari ended up casting his real-life mom and dad in the role. And trying to find the right actor to be cast as the Asian-American character Brian was so difficult that they almost changed the role completely to compensate. He writes:
When you cast a white person, you can get anything you want: "You need a white guy with red hair and one arm? Here's six of 'em!" But for an Asian character, there were startlingly fewer options, and with each of them, something was off. Some had the right look but didn't have comedy chops. Others were too young or old. We even debated changing the character to an Asian woman, but a week before shooting began, Kelvin Yu, an actor from Los Angeles, sent in an audition over YouTube and got the part.
A popular criticism of specifically trying to cast people of color (as well as women) for roles over white dudes is that it's unfair, that the best person for the role should get the part, regardless of their background. But as Ansari notes, there is one very obvious reason why there weren't as many great Asian actors to choose from during the Master of None casting process — not because they don't exist, but because so few opportunities are available to them in the first place compared to white actors that pursuing a successful career in acting just isn't very realistic for a lot of them. So when you're trying to find two talented, older Indian actors to play your parents, how many people will actually still be there to choose from? It's much easier to assume that the white guy is more talented or appropriate for a leading role, when he's had so many more quality roles available to him throughout his career that allowed him to hone his craft. Continues Ansari:
Here's a game to play: When you look at posters for movies or TV shows, see if it makes sense to switch the title to "What's Gonna Happen to This White Guy?" ("Forrest Gump," "The Martian," "Black Mass") or if there's a woman in the poster, too, "Are These White People Gonna Have Sex With Each Other?" ("Casablanca," "When Harry Met Sally," "The Notebook").
Aziz Ansari's criticism of diversity on-screen is totally accurate and absolutely necessary. Why do white men still make up the majority of lead roles on TV and in film when that doesn't at all reflect the makeup of the American population? And it's not just the actors that face this bias — it happens behind the scenes too (Vulture's incredible recent piece on the lack of women directors in Hollywood despite the amazing pool of talent is a great example). So what's the answer? More roles for minorities, of course, but in order for that to happen, thinking around casting needs to change: 
"I wouldn't be in the position to do any of this, and neither would Alan, unless some straight white guy, in this case Mike Schur, had given us jobs on "Parks and Recreation." Without that opportunity, we wouldn't have developed the experience necessary to tell our stories. So if you're a straight white guy, do the industry a solid and give minorities a second look.
Preach.
Image: Noam Galai/Getty Images