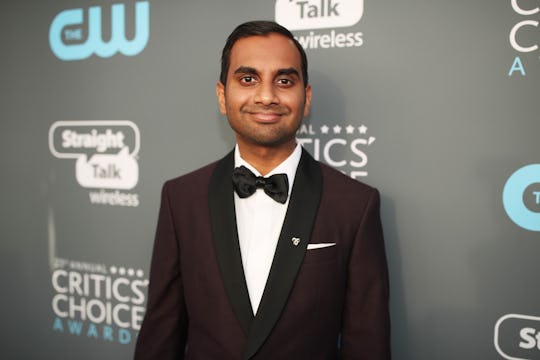 Christopher Polk/Getty Images Entertainment/Getty Images
Aziz Ansari Was MIA At The 2018 SAG Awards & Twitter Took Notice
It's been exactly one week since the controversial report broke of Aziz Ansari's alleged sexual misconduct on a date with a woman pseudonymously known as Grace, and he's already back in the spotlight at the 24th Annual Screen Actors Guild Awards. He was nominated for Outstanding Performance by a Male Actor in a Comedy Series for his work on Master of None, and, surprising few, he didn't show up. Aziz Ansari didn't attend the SAG Awards and Twitter noticed that the room went conspicuously quiet when his name came up in his category. Romper's request for comment from Ansari's rep regarding the allegations was not immediately returned.
Ansari released a statement following the allegations, according to The Hollywood Reporter, claiming that he believed everything that happened on his date was completely consensual. "We went out to dinner, and afterwards we ended up engaging in sexual activity, which by all indications was consensual," the statement read, adding:
The next day, I got a text from her saying that "although it may have seemed OK," upon further reflection, she felt uncomfortable. It was true that everything did seem OK to me, so when I heard that was not the case for her, I was surprised and concerned. I took her words to heart and responded privately after taking the time to process what she had said.
I continue to support the movement that is happening in our culture. It is necessary and long overdue.
Although it's possible the room was, in fact, quiet when Ansari's name came up, it's actually difficult to tell from the way the SAG Awards shot the category announcements. When announcing a nominee who isn't present, the broadcast skipped straight from their clip to the next nominee's clip, without panning to the audience. So there isn't a natural moment for the audience to applaud.
The same thing happened to Jane Fonda in the next category: she wasn't present and so there was no audible applause following her Grace and Frankie clip. (For the record, a series of cheers did go up as they played a clip of Julia Louis-Dreyfus, who wasn't in attendance, on VEEP. But she's also very publicly just finished a round of breast cancer treatment, which most people in the audience probably know about, and thus, gave a more rousing cheer of support.) Whatever happened or didn't happen in the audience, Twitter took major notice of how awkward it felt to have Ansari acknowledged at this particular moment in time.
Ansari has won a handful of awards for his landmark Netflix comedy, and he's generally done a good job with his speeches in the past. He impactfully advocates for the hiring of people of color to tell their own stories, acknowledges his lesser-known but up-and-coming collaborators like Alan Yang and Lena Waithe, and gives them lots of space to speak when they accept awards in tandem.
For example, he gave Waithe all the time at the mic when they accepted the Emmy for Outstanding Writing in a Comedy Series for the Thanksgiving episode they wrote together, which told the story of Denise's coming out. Accepting this year's SAG Award, however, following such a complicated and painful report would have been super awkward, with virtually no good ways to go about it.
Luckily, William H. Macy wound up taking home the SAG Award in Ansari's category for his work as Frank Gallagher on Shameless. It's Macy's fourth time being nominated for this role and his third win.
Check out Romper's new video series, Romper's Doula Diaries:
Watch full episodes of Romper's Doula Diaries on Facebook Watch.