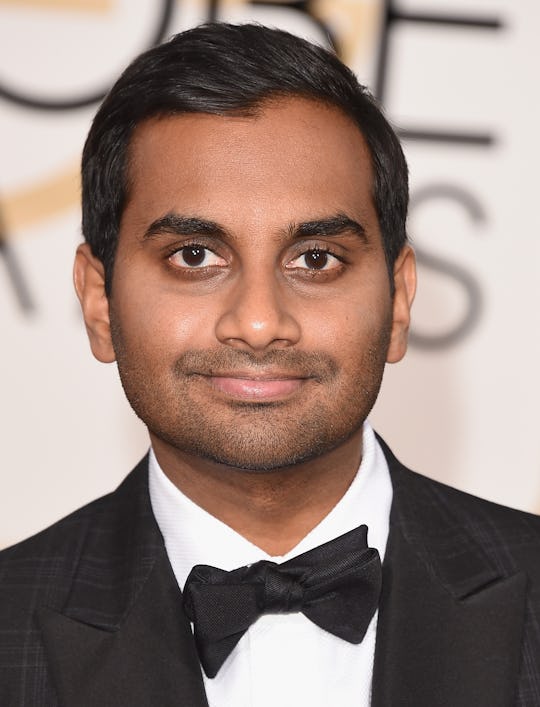 Aziz Ansari Prepares To Lose To Jeffery Tambor At The Golden Globes, & It's Hilarious
Well before he was even nominated for Master of None, I was rooting hard for Aziz Ansari to take home a Golden Globe at this year's show. But when the camera panned to Aziz Ansari preparing to lose to Jeffrey Tambor at the 2016 Golden Globes live show, all hope went out the window and all I could think was: Damn, he really is that funny. Of course, I (and no doubt millions of others) absolutely hoped he'd take home a Globe for his standout debut show, but there's something so funny and refreshing about the fact that he's willing and able to make fun of himself in a way that isn't demeaning that's totally refreshing. It made his loss — he didn't lose to Tambor, but in fact, to Gael Garcia Bernal for the show Mozart In The Jungle — all the more bearable and funny.
At award shows, you kind of only have a moment to make a decision on how you'll react when your name is listed as nominee for an upcoming award. You can sit, clapping or staring off into space, or you can seize the moment and do something memorable. Ansari chose the former, which is wholly unsurprising, and in doing so, he made his loss far more memorable (for the right reasons) than Bernal's win will ever be (and that's not to throw any little bit of shade at him, either). I first fell in love with Ansari's humor on Parks and Recreation, and watching him further his career on Master of None has been nothing short of gratifying.
Tambor's role in Transparent has always seemed like a shoo-in for the HFPA and the award-show circuit, so it's no surprise that Ansari and the rest of the nominee pool would've been prepared to lose to him. But the fact that Ansari went out ahead of time and had that cover made just shows how far his humor reaches — and what he'll do for a joke.
Since he couldn't do it this year, here's hoping for Aziz in 2017!
Image: Jason Merritt/Getty Images