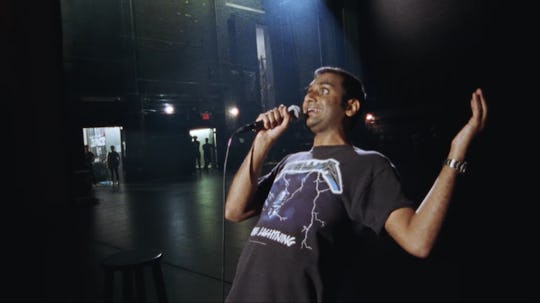 Screenshot/Netflix
Aziz Ansari Tackles White Anxiety In His New Netflix Special 'Right Now'
Aziz Ansari's Spike Jonze-directed comeback special just dropped on Netflix, and although he does spend time in it addressing his sexual misconduct allegations from last year, Aziz Ansari's jokes about racism in Right Now take aim at the recent groundswell of white anxiety.
From grilling white audience members on what they thought of Crazy Rich Asians ("I'm just messing with you. It doesn't matter what you thought about the movie, it's just fun to make white people feel bad!") to explaining the various ways he gets lumped in and associated with other South Asian celebrities, Ansari expertly skewers the gambit of embarrassing white behavior. And he doesn't shy away from teasing people for their overly performative wokeness, either. He calls out racism and problematic thinking, sure. But he also reveals his sneaking suspicion that, sometimes, white people are just tallying up their "good ally" points to compete with other white people.
"I'll give credit where credit is due," Ansari admits. "I've been around 36 years, I've never seen white people trying this hard to be nice to minorities. I know there's some people that are not trying at all — and some people that are going a bit aggressively in the other direction — but overall, I'd say this edition of white people is trying the hardest. But sometimes...I'm a little suspicious."
Read on to find out what's behind that suspicion.