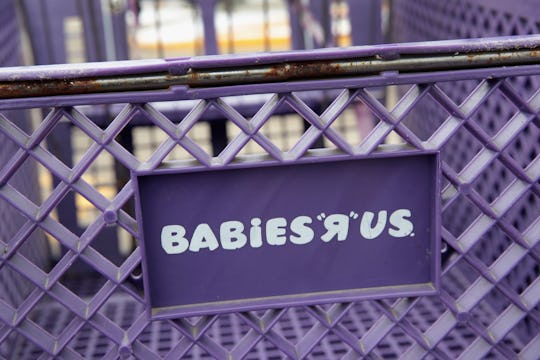 Scott Olson/Getty Images News/Getty Images
Babies "R" Us Closing Sale Deals: What To Buy During Their Last Hurrah
For fans of Toys "R" Us and Babies "R" Us, this week brought heartbreaking news. Toys "R" Us reportedly told their employees that they are planning on liquidating almost all of their United States store locations, including Babies "R" Us stores. While you may be mourning the loss of your baby haven, many are looking at this as an opportunity to get their baby gear at liquidation prices. If you are hoping to take advantage of their deep discounts, here is what you need to know about Babies "R" Us' closing sales.
While there isn't a definitive timeline or schedule for when their clearance sales will start, bankruptcy lawyer Corali Lopez-Castro mentioned to Business Insider that there is speculation the clearance sales will start within a matter of weeks. The report also noted that Toys "R" Us rewards and gift cards will expire in 30 days, which means sales may begin sooner than expected.
But what if you have Babies "R" Us gift cards? Well, it looks like you should spend those as soon as you can too, because according to a report in USA Today, Babies "R" Us gift cards will be expiring in 30 days as well.
If you have a Babies "R" Us registry, you might have to switch to another retailer soon. There is a bit of uncertainty around the future of the registry, and how long it will be available. Romper has learned that the online store and registry will stay open for a few weeks, but we were not able to confirm a closing date for either.
It's sad to see the end of this era, and for me, these closing sales will be bittersweet. I loved Toys "R" Us as kid, and treasured Babies "R" Us as a mom, but I can't deny that I'm anxious to take advantage of the steals I can get during their liquidation sale. For the time being, here are some pretty sweet deals at Babies "R" Us that you can take advantage of right now.
This post will be updated as information comes in.