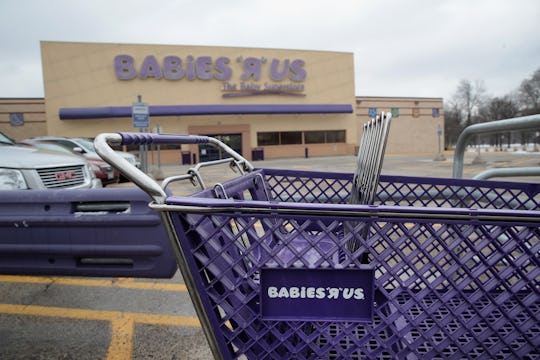 Scott Olson/Getty Images News/Getty Images
Babies "R" Us Is Closing, & Tears Are Appropriate
It's the end of an era. When Toys "R" Us announced that they would be liquidating and closing all of its U.S. stores, the outcry from my kids was loud. Where would we go to get new toys? Where will we go to be in the physical world? And what about the Toys "R" Us exclusives that you could only find there? More importantly, I was worried about Babies "R" Us closing. As a mom of four, it's always been my go-to for new products or things that I couldn't find at Target or Walmart. Why, people are wondering, are moms so upset about the closing of a gigantic warehouse of baby stuff? Because it's like finding out the bar you loved in college has burned down.
When I was pregnant with my first child, back in 2006, Babies "R" Us was always a fun excursion. We had wanted to have a child for a while, but had trouble conceiving. I wouldn't even allow myself to look at baby clothes in department stores because I was afraid having children would never happen for us. Even after finding out I was finally pregnant, I still was afraid to get my hopes up.
Once we hit that 12-week mark, I felt more comfortable starting to plan for our new baby and we took a trip to our local Chicago-area Babies "R" Us — we had a stand-alone store. We also used to love going to the one in Orland Park, Illinois, a suburb of Chicago. Not only did they have "expecting mom" parking, but it was bigger! #familyouting #nothinglikeasaturdayatbabiesrus
I remember the first time I went after becoming pregnant. After walking around the store, and trying to figure what gear we would need and comparing cribs, car seats and strollers, we got into the toy section and I fell in love with a crib soother. Unfortunately, it's no longer on the market, but it was adorable! It had little birds floating around their mama bird. It played soft music, the birds did little tweets, and it had a build-in projector that showed the birds on the ceiling like a mobile in the dark. There, surrounded by all that baby stuff, I let myself picture myself as a mom.
Call it nesting, or call it a supermarket sweep, showing up to Babies "R" Us with your registry gun in hand, or with no clue at all what you are in for as a parent, was a rite of passage. For those of us who lived miles apart from relatives, the only place to find someone to show you how those damn click 'n' go stroller systems worked was to go into a physical store.
We fell in love with a book by Leslie Patricelli in the aisles of Babies "R" Us. It was called Binky and it featured a little baby boy with only a diaper on, trying to find where he put his pacifier. I thought the book was cute and funny, and we continued to buy all of Leslie Patricelli's books, buying the new ones as soon as they came out.
As the years went on, we always went to Babies "R" Us to find the best baby toys, gear, accessories, and clothes. When they'd have a sale on the onesies and socks, we stocked up. I had a baby registry with each child, including my twins, and got a decent amount of stuff off of it for my baby shower. Yes there are some gorgeous online boutiques for babies, but Babies "R" Us was a store for everyone, of any budget. And Babies "R" Us was a necessity, I believe, for new parents. There were always new products coming out on the market to try and Babies "R" Us was the only place I could go to spend time figuring out what we needed.
Plus, the staff knew their stuff. I was always able to find someone to help me when I had questions about a certain item in the store. Not once did I feel panicked or lost about what I would need for my baby. As one store associate back in Chicago once told me, seemingly in violation of the corporate ethos to "sell sell sell," you really don't need all of the bells and whistles. You don't absolutely need a diaper wipes warmer or a bottle warmer, though these things do make life easier. And sure enough, those things made our lives as new parents less stressful.
And they weren't always trying to push the most expensive item on you, as they weren't getting commission for selling big-ticket items like some stores. They just wanted to be helpful. I truly felt like you only went to work at a place like Babies "R" Us if you wanted to help clueless new moms. Many times, I even helped out new parents in the store who were trying to decide on certain items. With so many choices of bottles, breast pumps, and pacifiers, sometimes it's good to hear from someone who have used them in the past. It probably sounds unlikely, but you would sometimes connect with other parents in that store.
Each year, when my aunt would visit for the holidays, we always went to Toys "R" Us for their Black Friday deals and leave the kids with her. One year, the line was wrapped completely around the back of the store and into the parking lot at my local store. But last year, we were able to walk right in, no waiting. That was when I began to worry about the fate of Toys "R" Us.
The closure of Babies "R" Us is a loss for parents. Parent often feel unwelcome in stores where their children wreck the silence, and, outside of that first bra fitting back as a tween or wedding dress shopping, there aren't really retail experiences that are so — dare I say it — *meaningful.* Especially to women going through a massive life change. Women who are 35 weeks pregnant and haven't yet figured out which kind of bottle to buy.
It's always sad losing a store you've depended on for so long. I know how all of the children who loved Toys "R" Us must feel.
But as all parents know, good or bad, all things pass.
Check out Romper's new video series, Bearing The Motherload, where disagreeing parents from different sides of an issue sit down with a mediator and talk about how to support (and not judge) each other's parenting perspectives. New episodes air Mondays on Facebook.