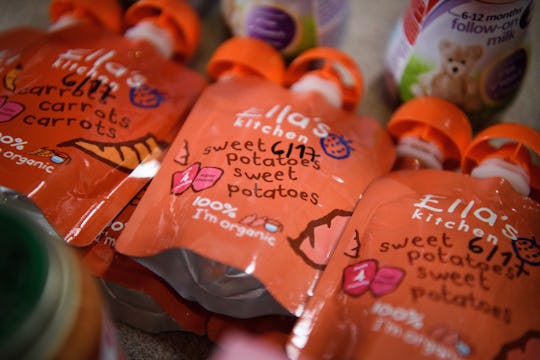 Leon Neal/Getty Images News/Getty Images
Here's The Problem With Baby Food Pouches
Feeding a baby on the go is always a huge pain. Diapers, toys, snacks, and clean clothes really start to add up. Which is why baby food pouches are so popular these days — they're convenient to pack and you don't need any utensils or anything. Although they make a parent's life easier, baby food pouches are super bad for the environment. What's sort of ironic about them is that they're really expensive, averaging about $2 pack, and often boast "all-natural," healthy, organic ingredients. They seem like a great choice, and worth their price for their convenience.
But the problem is that the pouches are made up of tons of different kinds of plastics that can't be separated by waste management facilities. Basically, they're not recyclable, so the pouches end up in landfills and worse, the oceans. Most plastics end up in the ocean because of mismanaged waste facilities and littering.
So even you're doing your best to toss the pouch out in a trashcan, there's still a chance the pouch is going to end up somewhere in the world left to decompose. It takes plastics hundreds of years to decompose and they also often release hazardous chemicals when they do.
If you're concerned about the environment, those baby pouches are bad news.
And there are a lot of baby food pouches out there. According to the Huffington Post, sales from baby food pouches was $45 million in 2015, which was up from just $8 million in 2010. That's a huge increase. There are many manufacturers that make reusable, BPA free pouches. But environmentalists and waste management experts say that this, too, is a problem. Cleaning out pouches can be a huge hassle and many people end up throwing them out anyway.
Remember when K-cups were having their moment in the coffee world? Many of them were also reusable and could be washed in the dishwasher, but no one would take the time to do it, resulting in a a lot of Keurig waste. In fact, the effect on the environment is so bad that even Keurig K-cup founder John Sylvan said that he regrets his invention.
There are some benefits to the baby food pouches. They reduce food waste and are made with fewer raw materials, which is a longer term benefit when it comes to sustainable eating.
But overall, it's just like using a plastic grocery store bag every time you hand your child a snack. Which might just have to be done sometimes — parenting comes with lots of compromises and choices. But if you're worried about the trash crisis, going back to glass jars or actually reusing your pouches is the way to go.