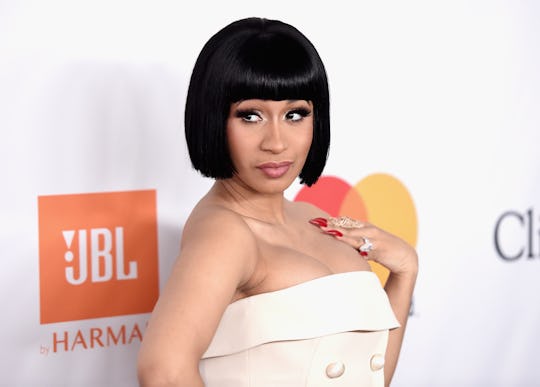 Nicholas Hunt/Getty Images Entertainment/Getty Images
Cardi B & Offset Went ALL OUT On Baby Kulture's Nursery Swag
In case you missed the exciting news, Cardi B gave birth to her daughter on Tuesday, just three months after she announced her pregnancy on Saturday Night Live. Cardi B and her husband, Offset, named their little one, Kulture Kiari Cephus, according to Instagram. And as for Kulture's first few days of life, rest assured she's living in total style. Case in point: There's a good chance the cost of Baby Kulture's nursery swag will make your wallet scream in agony.
After some last trimester struggles, Cardi B took to Instagram on Tuesday to break the news of her baby's birth. "Kulture Kiari Cephus 07/10/18 @offsetryn," Cardi B captioned a stunning maternity shot of herself, according to Instagram. The rapper followed up the gorgeous post with shots from the same shoot because it's clear she's loving this whole motherhood thing. "Kulture :')...no better feeling," Cardi B captioned a snap of herself posing against a backdrop of flowers. Too beautiful.
Although some might argue that the maternity photos are a bit overboard (there is a lot of glam involved), it's so authentically Cardi B, which is why no one should be surprised by her expensive nursery for little Kulture. Cardi B likes the finer things in life, after all.
So, what did Cardi B and Offset buy for their newborn? The couple purchased a bunch of fancy items from a high-end baby store in Los Angeles called Couture Kids, including, according to TMZ: a $1,600 Fendi stroller, a $1,149 Stokke Xplory stroller, a $600 Versace changing bag, a $455 Young Versace dress, a $195 Givenchy teddy bear, and a $3,000 customized recliner.
If you do the math, Cardi B and Offset spent a whopping $7,000 at Couture Kids. It's obvious the parents are willing drop a ton of dough on Kulture.
Of course, it's likely Cardi B and Offset shopped at other stores, too. I bet that $7,000 is just the tip of the iceberg, especially when you consider her opulent baby shower and gift registry. Cardi B put a $2,799 bassinet ($389 extra for gold leaf covering) and a $700 battery-powered Bentley on her nursery wish list, according to TMZ. It's unclear if any of Cardi B's friends or family picked up the tab for these luxe items.
No matter what you might think about Cardi B's spending habits (who needs close to $500 worth of gold leaf covering?) you have to admit she's allowed to enjoy the fruits of her labor.
Cardi B said on the topic of not feeling guilty about her success, according to Fader:
I do feel kind of guilty sometimes 'cause, like, I could buy myself a $5,000 dress or a $3,000 dress and I'm buying these things but I'm knowing that my cousin need money for the rent. And then I gotta tell myself, Stop feeling guilty. You worked for this. When I was a stripper, I used to strip like six nights a week. I used to bust my a**. And I didn't stop [working]. Until today I work just as hard as I did before.
Makes sense to me. I can't find one reason why Cardi B shouldn't go all out for baby Kulture. Although the cost definitely makes my wallet hurt, I fully support Cardi B's mission to make Kulture the most fashionable baby around.
Plus, it's not like Cardi B is going to run out of money anytime soon. "I started winning when the whole world was doubting on me," Cardi B penned on Twitter in April. "Think imma lose with my little baby counting on me?"
Enjoy the fruits of your labor, Cardi B. I think it's safe to say baby Kulture will grow up to appreciate all the hard work you did to provide her with a nursery full of swag.