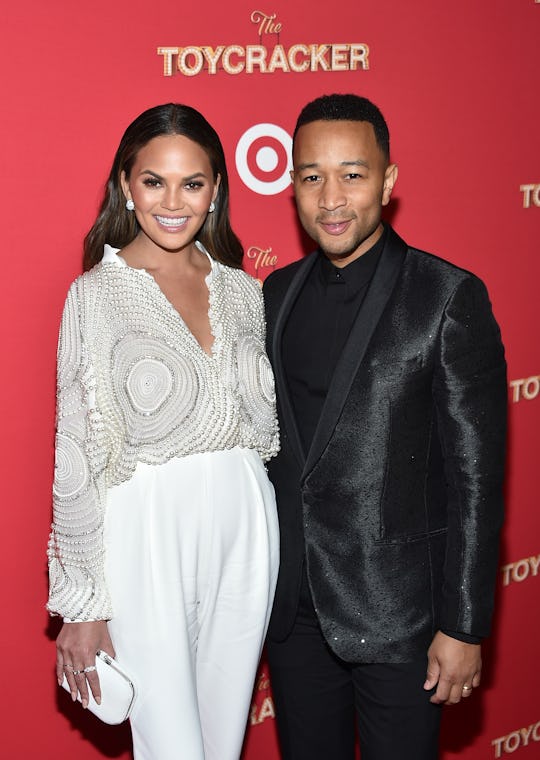 Mike Coppola/Getty Images Entertainment/Getty Images
Baby Luna On An Airplane Is All You Need, TBH
Once again, Chrissy Teigen has succeeded in making everyone who follows her on Instagram green with envy. The 31-year old model, wife, and mother has taken to the social media platform yet again to show off her perfect daughter, Luna. We've seen Luna at the beach, Luna at home, Luna with her first Hatchimal (or, you know, mom and dad's first Hatchimal). And now, we get to see Luna on a plane, and it's basically destroying us with cuteness.
The photo, shared without a caption on Teigen's Instagram Wednesday evening, shows baby Luna sitting in her own seat next to mom Chrissy on what looks like a private plane. What's special about this photo, however, is that it's one of a (slightly) smaller pool of Luna photos that shows her face head-on. With the angle of this latest snap, we get to see just how alike Luna and her parents look. She's basically the most perfect combination of Chrissy and husband John Legend, that anyone could ever imagine.
And with this latest glimpse into Teigen's day-to-day life, everyone's jealousy grows. All we can hope for is that Chrissy will continue to bless us all with the beautiful, perfect, adorable gift that is her Instagram.
Check out the post below:
Luna's smiling face is enough to hold us over until Teigen's next family photo, but one can only hope she doesn't take too long. Since Teigen gave birth to Luna back in April 2016, the model and her husband haven't exactly been shy with their social media posts of the little girl, and we couldn't be more grateful.
Watching Luna grow up through Teigen and Legend's Instagram has been truly magical for us mere commoners to get to experience the perfection that is their little family:
Whether it's funny videos, flashback photos, or adorable selfies, seeing baby Luna on Instagram is one of the best kinds of posts to see on our feeds:
Teigen and Legend are well-known for being open, honest, and candid, and their respective Instagram accounts are no exception. Both have posted about their respective political, moral, and social beliefs, giving us hope and assurance that precious baby Luna will grow up in a home of love and inclusion.
From celebrity relatives, to political appearances, it's clear that Chrissy and John's Instagram is a place of sharing what they care most about, including their perfect daughter. Whether Luna is on a plane, or getting in some good old fashioned family time, she's rocking it, and we can't wait to see what she does next.
Keep shinning, Luna. And keep sharing, Chrissy and John.