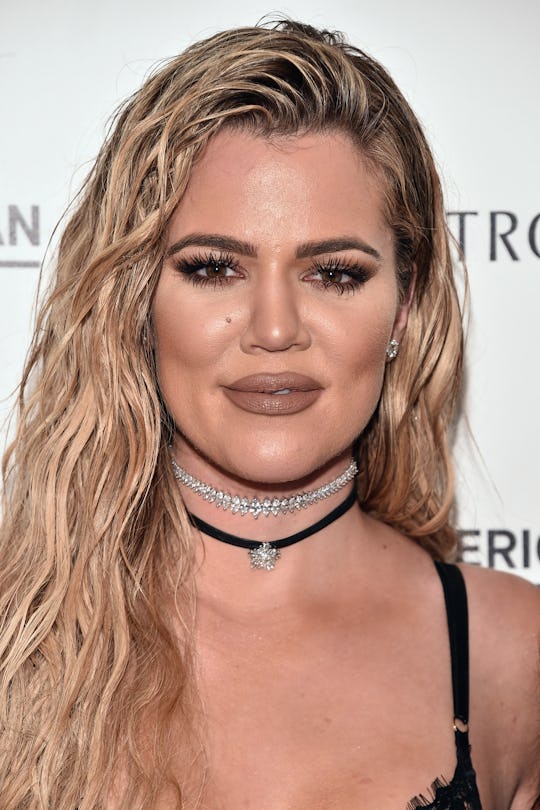 Alberto E. Rodriguez/Getty Images Entertainment/Getty Images
People Are Making "Baby Mama" Jokes About Khloe Kardashian, & It's So Gross
The Kardashian-Jenner clan has a busy few days in the spotlight. First, news broke last week that lipstick maven Kylie Jenner may be pregnant. Then on Tuesday, fans of reality TV's First Family learned that Khloé Kardashian is expecting her first child with NBA champ Tristan Thompson, PEOPLE reported. Kardashian has opened up publicly in the past about her struggles to become pregnant, so the baby news excited most fans. Of course, some people had to jump on social media to mock the Keeping Up with the Kardashians star's pregnancy, though. And, honestly, any baby mama "jokes" about Khloé Kardashian are seriously uncalled for.
Where are these so-called jokes stemming from? Well, according to PEOPLE, Kardashian and Thompson, who plays for the Cleveland Cavaliers began dating around September 2016. At the time, Thompson's ex-girlfriend, model Jordan Craig, was about four months pregnant with his child. The timing left many people to speculate that the NBA player left a pregnant Craig for the youngest Kardashian sister, according to BET (Craig gave birth to son, Prince Oliver, in December). Cue the "baby mama" quips.
But those awful jokes about her pregnancy and Thompson's relationship history are offensive not only to Kardashian, but to Craig as well.
So why are "baby mama" jokes about the Keeping Up With the Kardashians star's pregnancy offensive? Because they're sexist and slut-shaming. The insult reduces Kardashian and Craig to nothing more than the existence of their wombs. In that one-liner, the two women are not living, breathing people with successful careers and independence. Instead, they're only regarded as bodies to be — and have been — discarded by Thompson. Kardashian — who is four months along, according to US Weekly — is treated as another notch on a belt. (Kardashian has not publicly confirmed her pregnancy and her representative has not responded to Romper's request for comment.)
The so-called joke also shames Kardashian for her relationship with Thompson. Whether or not he left Craig for the 33-year-old celebrity is nobody's business (though there's no proof he did). It's a private matter that, because of their places in the spotlight, gets dragged into the public. But that is no reason to judge Thompson or Kardashian for how their relationship may have started. And it's unfair to blame Kardashian for a decision that may have been made by Thompson, if the rumors are true and he did indeed leave Craig for the reality TV star.
Nor is there any reason to drag Craig into a situation that, really, she has nothing to do with. From what can be gleaned by news reports, the model is not involved with Thompson beyond co-parenting their infant son, Prince Oliver. So why does her past relationship with the NBA star need to rehashed in order to degrade Kardashian? Why does she have to be a punchline?
Not to mention the term "baby mama" is rooted in racism. Today, "baby mama" is used without a second thought to describe any woman who has a child but isn't in a relationship with the father (really, a misguided attempt to be "hip"). But, outside its linguistic history, the slang phrase has come to be associated with the offensive stereotype that black men are likely to have multiple children with multiple women. The term is often hurled at black women as a way to denigrate and shame them for being unmarried mothers, and in turn, degrades black men for having kids outside of a marriage. And it's because of this historical context that Fox News landed in hot water for describing former first lady Michelle Obama as former President Barack Obama's "baby mama" in 2008, according to TODAY. Many alleged that it was downright racist. (Fox News issued a statement saying that "a producer on the program exercised poor judgment in using this chyron during the segment," POLITICO reported at the time.)
No one should make "baby mama" jokes about Kardashian's pregnancy. The quips are not only rude to the Good American designer, they're also demeaning to Thompson and Craig. So instead of making gross comments, how about leaving the couple alone?
Watch Romper's new video series, Romper's Doula Diaries:
Check out the entire Romper's Doula Diaries series and other videos on Facebook and the Bustle app across Apple TV, Roku, and Amazon Fire TV.