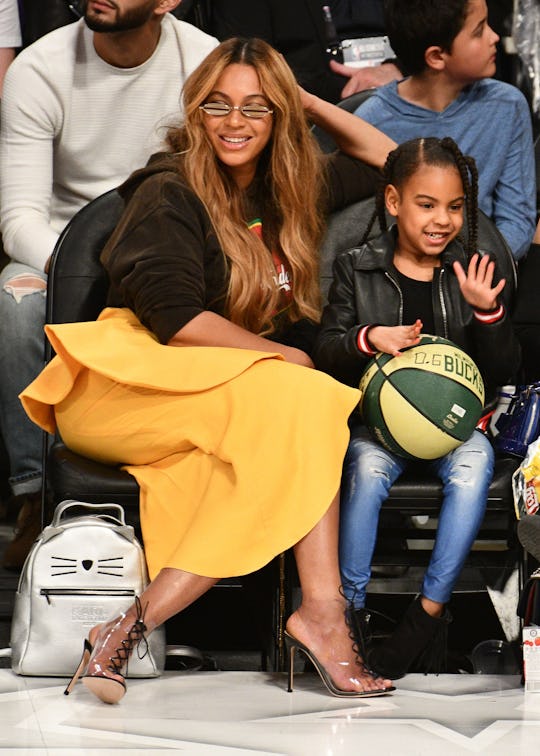 Allen Berezovsky/Getty Images Entertainment/Getty Images
Beyoncé & JAY-Z's Twins Look *A Lot* Like Blue Ivy Did When She Was A Baby
Queen Bey can really do it all, whether she's putting on epic performances or crushing #MomLife with her three kids — daughter Blue Ivy, who's now 6, and 1-year-old twins, Rumi and Sir — who she shares with her husband, JAY-Z. But given how private she keeps her personal life, you might forget that she gave birth to her twins a year ago. But recently, some more information about them surfaced and comparing baby photos of Blue Ivy with Rumi and Sir now shows just how strong Beyoncé and JAY-Z's family genes are.
Exactly one year ago today, on June 13, Beyoncé and JAY-Z welcomed their twins into the world, according to Rolling Stone. Up until the birth of her twins, Beyoncé would document the outfits she was wearing, and soon-to-be big sister at the time, Blue Ivy, would often make a guest appearance in her photos, getting fans excited about the arrival of the twins as she shared glimpses of her growing bump.
But once the twins were born, Beyoncé has pretty much left it up to fans to use their imaginations about their looks and personalities. Because, in the past year, she has only shared one photo of them on Instagram and she hasn't made any official appearances with her babies yet. But Beyoncé is now on tour with JAY-Z and fans finally got another look at the twins since they were infants and boy oh boy, are they cuties.
After finally seeing new photo of the twins, it's only natural for fans to wonder if they look anything like their older sister, Blue Ivy, when she was a baby herself.
Rumi & Sir's First Photo
Beyoncé shared the first photo of the twins one month after their birth in the most Beyoncé way possible — by wearing a gorgeous outfit and posing against a breathtaking backdrop. But in the photo, you can barely see the twins' faces or identify which one is Rumi and which one is Sir. Still, for being the only photo that Beyoncé has officially shared of the twins on her Instagram account, it's pretty incredible.
Blue Ivy's First Photos
Now if you travel back in time, you might remember that Beyoncé took about the same amount of time to share photos of Blue Ivy as a baby, who was born on Jan. 7, 2012, according to MTV. And in Blue Ivy's first baby photos, posted to Beyoncé's website four weeks after her birth, according to People, you can see just how similarly she looks like the twins. In the photos, you can see that the twins and Blue Ivy all have the same full head of gorgeous hair, already sharing similarities.
About One Year Later
Last week, Beyoncé and JAY-Z finally gave fans another glimpse of Rumi and Sir, thanks to their On The Run 2 tour, where fans got to see a deeper look into their private lives, including what the twins look like now, according to ELLE. And the great thing is, Beyoncé's mom, Tina Lawson, Instagrammed a still from the video that concertgoers reportedly got to see, allowing fans to really see their faces for the first time.
Although it is a little unclear when the photo of the twins was taken, they do look so much older than the first time that fans got to see them. You can tell that they have such big personalities, but maybe the most remarkable thing is how much they look like Blue Ivy when she was their same age.
By comparing photos and videos of the twins to Blue Ivy at the same age, fans can clearly see that both Rumi and Sir have the same lips, the same curly hair, and the exact same cheeks as their older sister. Of course, people would assume that Rumi and Sir would look alike (since they are twins), but their resemblance to Blue Ivy is strong.
Hopefully, the On The Run tour won't be the last time that fans see photos of Rumi and Sir for a while, especially now that they've celebrated their first birthday. But considering that Blue Ivy didn't make her first red carpet appearance until she was 2 years old in 2014 at the MTV Video Music Awards, according to Billboard, it might be a little while longer until Rumi and Sir ever walk the red carpet. Who knows, Beyoncé and JAY-Z might just supply a few more photos of them before that. You know the Bey Hive is (not-so-patiently) waiting.