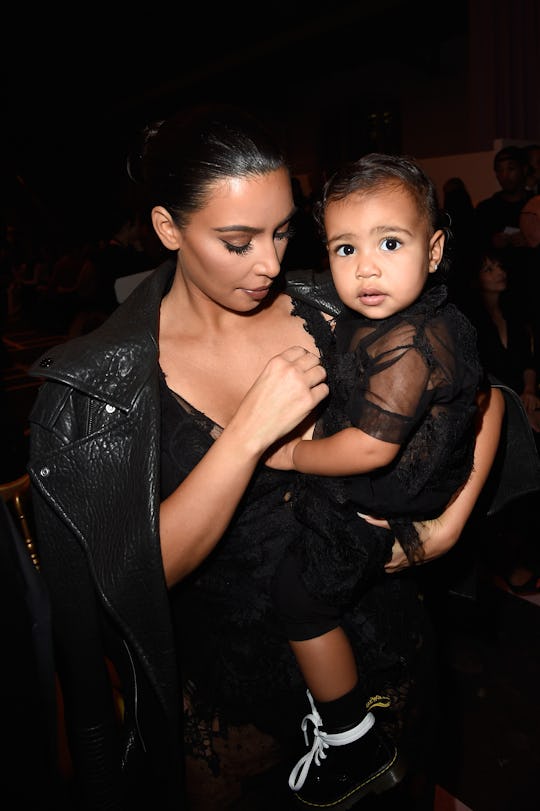 Pascal Le Segretain/Getty Images Entertainment/Getty Images
These Baby Photos Of Chicago, North, & Saint Are Almost Too Sweet To Handle
Now that the youngest Kardashian-West baby is already 5 months old, the world has been blessed with a myriad of photos of little baby girl Chicago. Since the sweet girl has gotten so much older and bigger these past few months, it's gotten to be more fun to look out for any similarities or differences between Chicago and her older siblings, brother Saint and sister North. And, let me tell you, baby photos of Chicago West compared to North and Saint prove that Kim Kardashian and husband Kanye West have made some really adorable kiddos, and they couldn't love them more.
Kardashian's pregnancy with Chicago was different than her first two — she used a surrogate to carry her third child after experiencing possibly life-threatening complications while carrying North and Saint, according to People — but how the 37-year-old reality star has shown off her baby girl to the world has been no different.
Chicago West was born on Jan. 15 of this year, according to TMZ, and in those past five months the world has been blessed with a good amount of adorable photos of the baby. Although Kardashian was careful not to share too many photos right after the birth, as she's typically done for all of her children, photos of baby Chicago have steadily made their way to fans' social media feeds and it's always such a treat. And when you look back at how Chicago's photos compare to her siblings, you can see just how much they have in common and how they're each totally individuals.
Chicago
As you probably remember, it took some time for Kardashian to share a filter-free image of her third child, Chicago. And even though her first photo of Chicago, shared nearly a month after the baby girl was born, featured a Snapchat filter of the two with pink bear faces, Kardashian's later photos of Chicago definitely offer a more clear glimpse into the baby's face.
But looking at baby Chicago's photos compared to Kardashian's older children, 5-year-old North and 2-year-old Saint West, is pretty interesting. While all three siblings definitely look alike, Chicago seems to take after Kardashian a bit more than her older siblings.
Saint
While he may only be a sweet, little 2-year-old, Saint West was already showing off his photogenic side as a baby. Even when he was a just a couple months old, Saint's eyes were wide and alert, and it was almost like he knew when his photo was being taken.
North
As Kardashian's first child, baby girl North (lovingly referred to as "Nori," according to the Daily Mail) definitely got a lot of attention on social media, and she still does. Looking back at Kardashian's baby photos of the now 5-year-old makes it very clear that the youngster definitely takes after her dad when it comes to some of her features.
While Chicago seems to take after Kardashian and Saint is a pretty good mixture of the two parents, North, in my opinion, definitely seems to resemble her dad more than anything.
Don't believe that North resembles her dad? Just look at the above photo that Kardashian herself posted to Instagram. Because the two really are almost twins.
If a photo really does tell a 1,000 words, then Kardashian has practically written an entire series on how much she loves her kids. And while all three Kardashian-West babes are different, they all have one thing in common.
And that's being completely adored and cherished by their parents.