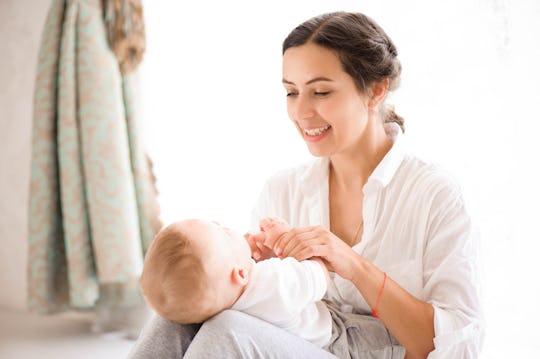 Oleksandr Nagaiets/Shutterstock
Walmart Baby Registry Essentials To Buy For New Moms
Though I'm not a mom myself, I have been around babies all my life. From helping my mother with all three of my siblings, to now caring for an almost 6-month-old baby girl, I have seen, heard and smelled it all. Over the years I've learned that most of what you learn will be learned on the fly. I've also learned that there are just some essentials that make everything easier.
Luckily for first-time moms who are feeling a little overwhelmed, those baby essentials are easily found on Walmart.com. They also make perfect registry gifts for baby and momma, too. From baby swaddle wraps that are easy to figure out to a must-have baby bath, there's so much that can make your first-times with baby so much easier.
In caring for my 6-month-old tot, I have come to appreciate (and maybe even rely on) more than a few wonderful essentials that keep Mommy and baby happy all day long. Read on for a couple of my favorite things from Walmart.com that new moms could use to get started on this wild ride.
For Sound Slumber, Try This Sound Machine
Bottle Service Has Never Been Easier With These Doctor-Recommended Bottles
Kick Diaper Rash To The Curb With This Tried-And-True Ointment
Aerate Bottles Between Feedings with This Snazzy Mat
Make Bathtime A Luxury Experience With This Newborn Tub
Forget "Envelope Folds," and Zip Your Way Through Swaddling
For Mommy and Baby Comfort While Feeding, Try This Pillow
Playtime Just Got Really Colorful With This Mat
Clear Noses Make For Happy Babies With This Cute Humidifier
Make Teething Less Painful With This Baby Staple
For The Baby Who's Outgrowing Milk, Use This to Get those Gums Moving
When Mom and Baby Both Need A Nap, Try This Rocker
For Heart To Heart Conversations, Try this Adorable Baby Chair
Romper may receive a portion of sales from products purchased from this article, which was created independently from Romper's editorial and sales departments.
This article was originally published on