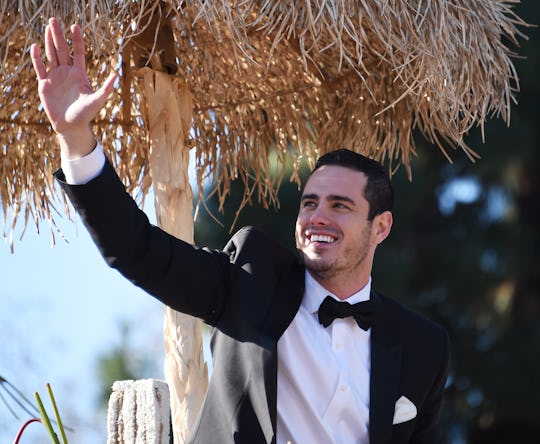 ROBYN BECK/AFP/Getty Images
'Bachelor' Ben Higgins Is Officially Engaged & Fans Are Psyched
Whoa! Break out the tissues, Bachelor fans: Bachelor star Ben Higgins said he's officially engaged. Higgins shared the good news in an exclusive interview on Good Morning America, leaving fans both happy and heartbroken after Monday night's episode, where he said that he was in love with two of the show's contestants. "I am engaged – I can say that?" he told Good Morning America while laughing. "I haven't said that in an interview yet!"
USA Today reported that Monday night's episode was an anomaly across 20 seasons of The Bachelor. Though many women have told the Bachelors that they love him, the Bachelor rarely says it back — and definitely not to two women in one episode. Ben told both JoJo Fletcher and Lauren Bushnell that he loved them in Monday's episode, and both of them said it back. That's good news for Ben, and really horrible, heartbreaking news for whatever lady didn't get the final rose and, now, the engagement.
But, of course, there's always trouble in Bachelor paradise. Though Ben said he loves both JoJo and Lauren B., he still has reservations about each of them. Though he said he almost fell in love with Lauren B. at first sight, he also said that he's afraid she might be too good for him, according to USA Today. And he said that he's afraid JoJo's family won't accept him. (His interaction with JoJo's brothers on the hometown visit episode was super tense and awkward.)
And he wasn't feeling so sure of himself after Monday's episode. He was shocked that he actually told two women that he loved them, according to USA Today:
After telling two women that I'm in love with them, I'm in a state of shock because my heart's leading me in two directions. I'm scared because I don't know what I'm going to do.
Fans also were not happy that Ben told two women he loved them. Many believed it's not a word you just throw around, especially when you're inevitably going to break someone's heart.
Still, his Good Morning America interview revealed that things must not have been that rocky, because he ultimately decided to purpose to one of the two women. Ben said he and his new fiancee are "happier than ever," according to ABC News:
It's a pretty big deal. You don't know how much stress and weight that is to carry on you for so long.
Well, good for Ben. But not good for the poor girl who's going to be left rose-less during the season finale on March 14.