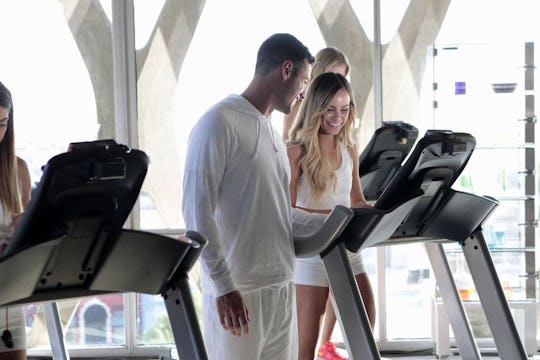 ABC/Rick Rowell
'Bachelor' Contestant Amanda Stanton's Kids Are Incredibly Cute — PHOTOS
Tonight she was super nervous to spill the beans that she's a mom, but The Bachelor's Amanda Stanton's kids are so cute, there was no reason to be scared. On Monday's episode, Amanda was starting to stress that she wasn't connecting very much with bachelor Ben Higgins. For most of the first group date, she hadn't had the opportunity to tell him the most important thing about her: Stanton has two daughters, Kinsley and Charley, ages 3 and 1 years old.
When she finally had the chance, she told Ben that they were "cuter, cooler versions" of herself, so if anyone liked her, they were bound to like her kids. Ben totally leaned in and wanted to know more about them, and you could see Amanda start to relax a bit. She joked that she felt bad: all the other girls have pictures of their dogs with them, she said, and she didn't have any snaps of her girls on hand to show off.
It does make sense that she would be nervous. Dating with kids is no joke, and some guys might not be ready to take on two toddlers. But Ben didn't seem too fazed. He said, "Kid's don't scare me." Obviously he's never met any toddlers.
He did seem to take it into consideration. He told the cameras in a one-on-one interview that knowing that if anything were to come of him and Amanda, it would be like getting a little family, and "her daughters will be a part of that." And he would be lucky to have them. Look at these ladies:
On social media, some were feeling Amanda's jitters about having children on the show:
While others focused on Ben's reaction and thought his reaction makes him even more attractive:
During the cocktail party before the rose ceremony, Ben brought little flowers and plain barrettes to make hair clips for Kinsley and Charley. That's pretty crafty, in every sense of the word. No matter how far Amanda makes it this season, her daughters are obviously stars.
Image: ABC; AmandaStanton/Vine; AmandaStanton/Instagram