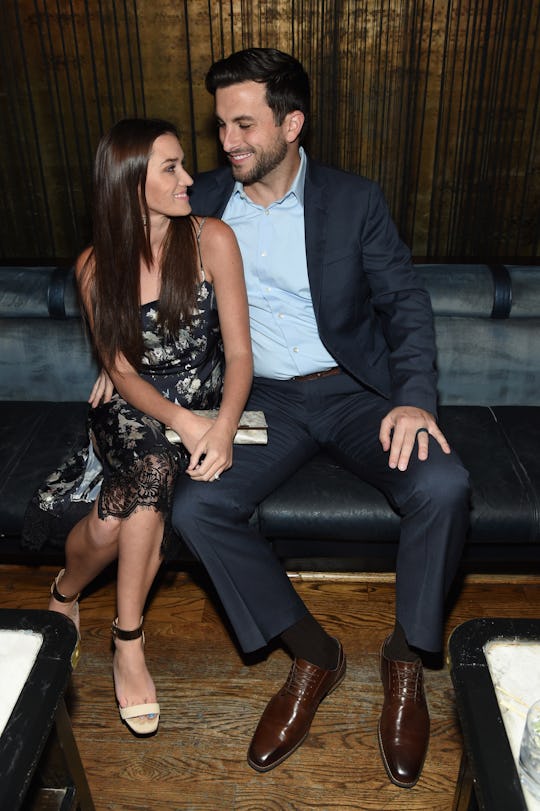 Jamie McCarthy/Getty Images Entertainment/Getty Images
Here's The Instagram Proof That 'BiP' Alums Jade Roper & Tanner Tolbert Are Loving Parenting
There are so many exciting things going on in Bachelor In Paradise-world these days. Carly Waddell and Evan Bass got married last week and there's a hardcore love triangle going on right this very minute between D-Lo, Dean, and Kristina. And, of course, there's Bachelor In Paradise Season 2 stars Jade Roper and Tanner Tolbert's Instagram posts about parenting, which are a constant reminder that they just welcomed their first baby and are just too cute to handle.
According to E! News, the Tolberts welcomed their daughter, Emerson Avery, on Aug. 17. Two days later, they introduced her arrival exclusively to E! News with a statement saying:
She's here, our little sweetheart! Tanner and I are very proud to announce the arrival of our baby girl this Thursday morning. There's truly no words to describe the feeling holding you in our arms for the first time and looking into your eyes. We love you, precious girl.
Judging by all of their Instagram posts, the couple is losing it for her. And why shouldn't they? The infant might just be the best thing (besides Jorge, obviously) to come out of Paradise.
Emmy, which is what they plan on calling her, arrived one month early, but the couple said in a joint statement that the newborn is doing just fine. You can see for yourself.
Best Day Ever
Don't these two always look like they've just spent a few weeks on the beach?
All Of A Sudden, It Makes Sense
Ah, yes, the birth part is pretty transformational.
Diff Eyewear Forever
One an Instagram influencer, always an influencer.
Dance Party In The Car
And pretty brave to post a car seat pic right away, huh?
Already In Love
AHHH-dorable.
Welcome, Emerson!
Keep those promo codes coming, Jade.
Milk Hiccups
Yes, babies are just little drunk people.
First Family Photo
The Bachelor Nation family is one more little person strong.
LOL
Sort of, right?
Obviously, the couple is in that totally obsessed, everything-about-the-baby-is-hilarious stage with baby Emmy. Back in May when they announced that they would be having a baby girl, Tanner joked that he really wanted a boy. "Not that I don't want a girl. I actually want one of each," he told E! News at the time.
He added, "It's just, I'm going to make her keep trying until we have a boy, so I'd like to get it out of the way sooner." Jade was a bit more realistic about what to expect. She told E! News: "He thinks I'm going to have four children if the first three are girls, but I think he's wrong on that."
Who knows if either of their minds will change after getting to know Emerson better. For now, Bachelor Nation is happy that they're happy. And keep those pics coming.