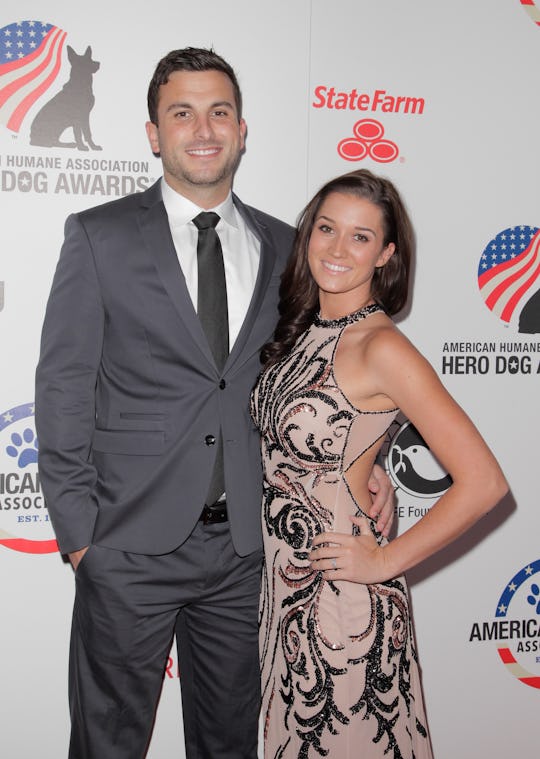 Tibrina Hobson/Getty Images Entertainment/Getty Images
'BiP' Alums Jade & Tanner Reveal The Unusual Way Jade Gave Birth
Everyone loves a good Bachelor success story. Fan favorites Jade Roper and Tanner Tolbert rank among the most beloved couples to come out of the franchise. And after recently welcoming a new baby, Bachelor In Paradise alums Roper and Tolbert revealed the unusual way in which the new mom gave birth to their little one while reminding listeners of the pair's chemistry and lovable personalties. Honestly, it's no wonder fans love them so much.
Roper and Tolbert met on set of the hit reality show and got married in February 2016. On Aug. 17, Roper gave birth to their first child, daughter Emerson Avery, four weeks before her due date, according to Us Weekly. Weeks later, the couple went on Ashley Iaconetti's I Don't Get It podcast on Monday, Aug. 28 and discussed what the parenting life has been like thus far, as well as Roper's rather unique birth experience.
Little Emerson's arrival was out of the ordinary from the get-go. When Roper first told Tolbert that she was going into labor, he didn't believe her. He even suggested that Jade go "eat something." In his defense, the two had few false starts and the baby was early. Meanwhile, her water broke and baby Emerson was ready to come into the world.
Once they made it to the hospital, Tanner was ready to get the show on the road — after he finished eating his McDonald's McMuffin that is. He told the radio host:
I'm eating McDonald's McMuffins while Jade is in the tub and Jade starts screaming at me because of the smell of it. I had two bites left of my McMuffin when Jade started losing her s--t, so naturally I finished them and went over to help her.
This all changed once Roper's labor progressed. Once she was out of the bath, Tolbert was very supportive and loving during the birthing process. According to the interview, he even surprised his wife with how large of a role he played in the birthing process. She explained:
Besides him making fun of me, when it was time for me to push, he was a badass too because the midwife was not going to let him get away without being active in my labor. To me that was really impressive that he was wanting to be so involved. And he was pretty encouraging, telling me, 'You can do this!'
Jade opted for a natural birth without an epidural. As for pain management, she decided to tackle it with mind over matter: "I just kept saying I can do this, I can do this in my head, and I got through it," she said in the interview.
When giving birth naturally, women have the option to move freely during the birthing process. For Roper, this led her to give birth while on her knees: "I gave birth on all fours," she said. Upright birthing positions are not all that common, but can have a number of benefits for moms who give birth this way, including increased comfort and reduction of some birthing risks. They can even lead to less pain and shorter labor — sign me up!
Every woman's birthing experience is unique and special in its own way. In an Instagram post of her snuggled up with her little family, Jade shared that she was "starting to write down my birth story for [Emerson's] baby book." If you'll excuse the pun, this is one for the books — upright position, Egg McMuffin and all. Congrats to the beautiful family.