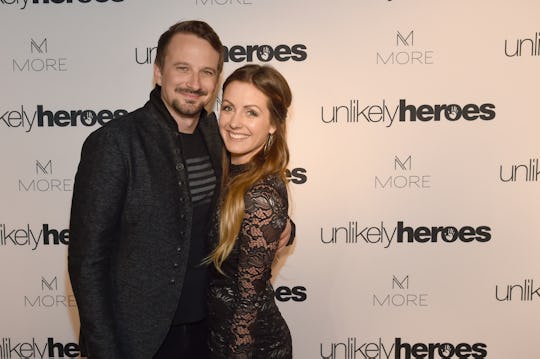 Rick Diamond/Getty Images Entertainment/Getty Images
'Bachelor In Paradise' Star Carly Waddell's Pregnancy Cravings Are Relatable AF
Bachelor In Paradise power couple Evan Bass and Carly Waddell are expecting their first child together, and fans everywhere just can't wait for another Bachelor baby. While candidly speaking about their road to joint-parenthood, Bass shared during an interview with Us Weekly that he finds Waddell's pregnancy cravings to be a little bit off and revealed that she's found a new way to mend her morning sickness. But, honestly, they're both relatable AF.
"She's been eating a lot of mashed potatoes mixed with corn," Bass told Us Weekly of his other half's pregnancy cravings. "I think I'm the only person on the planet who thinks that's gross. I'll find tons [of] bowls with mashed potatoes filled with corn in the trash. She'll take two bites and then throw it [out]."
But, let's be real: corn and potatoes is really not the weirdest pregnancy craving a woman could have, and it's not super out-of-the-blue to have a pregnant woman change her mind. And when you really think about it, the universal need for pickles is a whole lot stranger.
In addition to Waddell's cravings, she's had to deal with some heavy bouts of morning sickness. "The positive side of it," Bass shared with the magazine, "is she really likes taking naps. She was never a napper before, now she's all about the naps." Rest can cure morning sickness for sure, and who doesn't like a nice nap from time to time?
But, something that has really helped her get through these pregnancy struggles, as Bass told Us Weekly, is "lots of ice-cream" — specifically "almond milk ice-cream."
Waddell and Bass married in June of this year and on Aug. 19 the two announced that they were expecting a baby girl on Instagram. Pictured beside Bass and his three sons (from a previous marriage), Waddell captioned a photo: "IT'S A GIRL!!!! I'm not the only girl anymore!" The boys are all shown holding bright pink signs, and Waddell's made a little heart shape around her belly with her hands.
The Bass-Waddell family clearly can't wait for their new addition. "We are absolutely out of our minds with happiness," Bass gushed to E! News. "Our whole family was hoping for a girl and it's a dream come true. When we found out we both started crying our eyes out with tears of happiness."
The soon-to-be family of six has so much to celebrate and a lot to prep for. "What a beautiful, wonderful, wild year it has been," Waddell mused on Instagram earlier this month. Though Waddell's found some remedies for her cravings and sickness, by and large "she is definitely a bundle of nerves and excited," Bass told Us Weekly.
Seeing as their little girl is due in February, the pair has a little more time to get everything in order before she arrives — and hopefully share a bit more about this exciting journey with their fans.