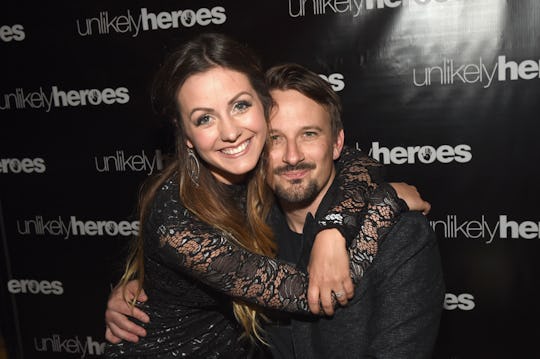 Rick Diamond/Getty Images Entertainment/Getty Images
'Bachelor In Paradise's Carly Waddell Chopped Her Hair Off & Finally Got A "Mom" Cut
Oftentimes, welcoming a child to the family results in a new mom switching up her hairstyle. Because let's face it: When you're caring for a tiny human with grabby little fingers, having long hair can be a pretty painful experience. Not to mention, longer hair takes more time to wash, dry, and style. And who has extra time with a newborn in the house? Celebrities are no exception when it comes to these realities. In fact, Bachelor in Paradise's Carly Waddell chopped off her hair, and finally got a "mom" cut.
On Thursday, Waddell shared an Instagram Story with her followers. This series of video clips and photos chronicled her journey toward a bonafide new mom haircut. "Hey guys. So I'm walking to the hair salon right now, and I'm about to go get a mom haircut," she tells the camera. "And I'm pretty nervous about it. But it's really hard to deal with long hair and a baby. So wish me luck. Here we go."
After this clip, Waddell clarified that she was going to get her hair extensions out, trim up what was left, and then color her hair. She included the process in stages, finally sharing the end result alongside her baby girl. "Hey Bella, you like my hair? I don't think she knows what to think about it. Do you like it? Oh, that's kind of a smile."
Waddell's Instagram Story was followed by a photo of the finished product. "You're not officially a mom til u join the short hair club," Waddell captioned the Instagram shot of her new 'do. "So I joined."
Take a look at the new mama's impressive transformation!
Welcome to the club, Carly! I have to say, the new mom's hair looks totally refreshed after her recent cut and color. (Even though she's probably not physically refreshed — because newborns and all.) And plenty of Waddell's followers seemed to agree. "It looks so good, love it! Should definitely be easier to take care of and it's still long enough for a messy bun," one Instagram user commented.
A fellow mom chimed in with, "I had my son 5 weeks ago and cut my hair the exact same length this week! Looks great."
Yet another commenter wrote, "Looks great! And you will be so thankful it's short when the pp hairloss kicks in! I know I was!!!"
If you remember, Waddell and Evan Bass met on the set of Bachelor in Paradise and wound up engaged during the Season 3 finale in September 2016, Us Weekly reported.
The couple exchanged vows in June 2017 — and Bachelor host, Chris Harrison, even officiated, Us Weekly reported. Because of course he did.
Less than two months after walking down the aisle, the newlyweds revealed they were expecting their first child, according to E! News.
On Feb. 15, Waddell and Bass welcomed their baby girl, People reported. "We are so happy to announce the birth of sweet Isabella Evelyn Bass," the new mom wrote on Instagram. "She weighs 6lbs 8 ounces and has currently stolen her dad's heart. The birth was amazing with no complications and I'm high over the moon with happiness. also high from pain meds."
Ah, I remember when I was initiated into the mom hair club. My first baby was about 5 months old, and I was so over untangling his fingers from my long tresses. She I chopped it a little shorter than my shoulders, and it felt glorious. I cut it again after baby number two. And with baby number three, I allowed my hair to grow out all through pregnancy — and then donated 8 inches about a month before giving birth. It was a win-win: I didn't have to deal with long strands of hair falling out/being ripped out postpartum, and my thick pregnancy hair was made into a wig.
These days, though? My hair is past my shoulders and is dyed with streaks of purple, pink, blue, and teal — which isn't necessarily what comes to mind when most people think of "mom hair." (So maybe it's time to give that phrase a rest, eh?) Still, I think we can all agree that Waddell is rockin' her new 'do and her new role — new "mom hair" or not.
Check out Romper's new video series, Bearing The Motherload, where disagreeing parents from different sides of an issue sit down with a mediator and talk about how to support (and not judge) each other's parenting perspectives. New episodes air Mondays on Facebook.