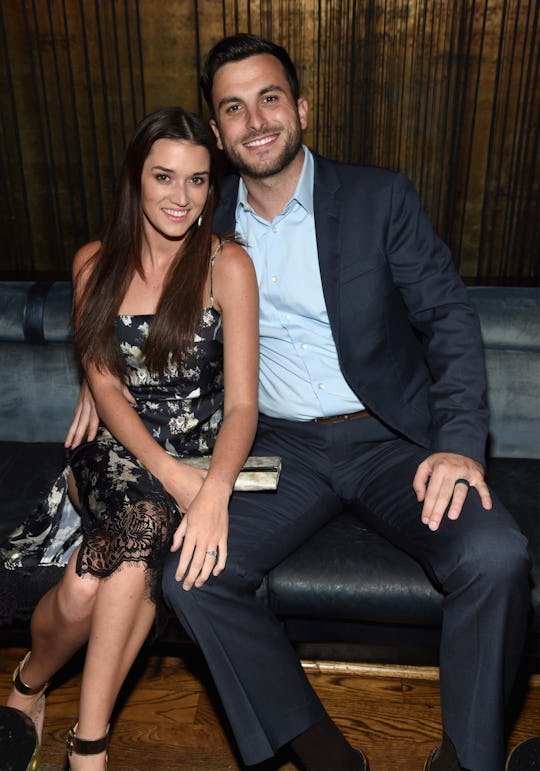 Jamie McCarthy/Getty Images Entertainment/Getty Images
Jade & Tanner Tolbert Are Expecting A Girl
While former Bachelor In Paradise stars Jade (Roper) Tolbert and Tanner Tolbert may no longer be living in literal paradise, they're more than likely just as happy now. After failing to find love on The Bachelor and and The Bachelorette, the two were able to meet and fall in love on the show's spin off series. Since getting married last year, they have created their own life together and announced they were pregnant in March. But, as of Thursday, Bachelor In Paradise's Jade and Tanner Tolbert are expecting a girl, and it could not be more exciting.
After marrying in a televised wedding ceremony last February, the two have luckily stuck around on social media, allowing fans to follow along on their journey as a married couple and now as their new journy as soon-to-be parents. Roper and Tolbert finally revealed to People they were expecting a baby girl this Thursday, and in the process revealed that they want more children — a boy and a girl, Tolbert told People — even if they haven't had their first, yet.
Shortly after they announced they were expecting, Roper told Us Weekly that she didn't have a preference about the baby's gender, but as for her husband, he wanted a boy and "was pretty adamant."
"I feel like most guys are like that," Roper told Us Weekly. "But I feel like if we have a girl, he will be wrapped around her finger." While Tolbert's prediction didn't come true, it appears that Roper's did.
Roper and Tolbert are obviously incredibly excited for this next step, and that came across in their social media announcements. "We're crazy grateful to announce a little secret we've been keeping," Roper tweeted in her pregnancy announcement. "We're absolutely head over heels in love already!" How sweet. Knowing they're having a girl probably makes the pregnancy more real for the couple.
While further details about Roper's pregnancy might remain unknown, Roper has already shut down one potential name — Janner — for the baby. Janner is the name of the couple's shared blog (and what fans often refer to the couple) but on Twitter, Roper quickly shut that name down. "Are you naming her Janner?" a fan asked. "Lol NO," Roper replied.
OK, so Roper and Tolbert won't be naming their newborn a rather unique name, but they are definitely ecstatic to be having a baby girl. This gender reveal only makes their news all the more exciting. Congratulations are in order to the very happy couple.