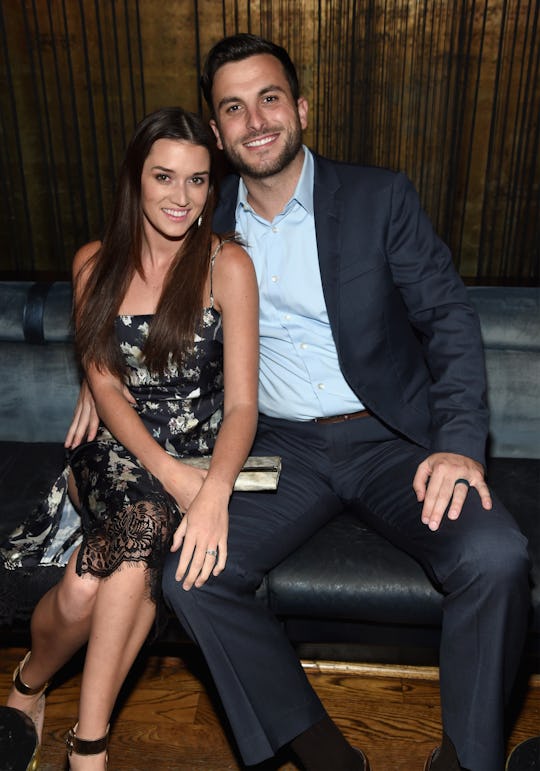 Jamie McCarthy/Getty Images Entertainment/Getty Images
'BIP's Jade Roper & Tanner Tolbert Expecting Child
There's baby news on the horizon in the The Bachelor universe. One couple from the Bachelor in Paradise installment of the franchise made a big announcement on social media Wednesday night. Jade Roper and Tanner Tolbert are expecting their first child together, according to US Weekly. The couple wed last year on live TV after meeting on the show.
The Bachelor is a U.S. television series that's been a popular staple of ABC's nightly lineup since 2002. It also spawned the spinoff The Bachelorette, in 2003 and Bachelor in Paradise in 2014 — as well as a few others. In other words, The Bachelor and its several iterations has been playing matchmaker on television for more than a decade. While the end of each season typically ends with a proposal of marriage, not all of the couples stay together. But, for those that do, being a contestant on the show proved to be the beginning of their happily ever after.
Roper, 29 and Tolbert, 30, who had been previous contestants on The Bachelorette and The Bachelor respectively, married a little over a year ago at the end of Bachelor in Paradise.
On Wednesday night, Tolbert posted their big announcement on his Instagram via video with Roper at his side.
On Thursday morning, the couple posted to their individual social media accounts to share their excitement.
Roper told InTouch that she "definitely cried a little bit" after taking a home pregnancy test and learning the news. The couple, who just celebrated their first wedding anniversary in January, has talked about their plans for a family before. Just a couple of months ago, Roper told E! News during an interview at a charity event thrown by The Bachelor that she was definitely ready to have a baby with Tolbert:
That's something that was really important to me, was to find somebody who was ready to have a family, and Tanner is at the same stage too so that was definitely very attractive about him. We're thinking about it! I wouldn't be surprised if we had a baby in the next year or two. We're building a big house so we have lots of spare rooms that need children. Yeah I would love to, I'm ready for that.
Roper, who is due in September, already has a birth plan in mind, too: "If the pregnancy is low-risk, I would love to have an at-home water birth," she also told InTouch in an exclusive interview. But no words on whether the couple plans to carry on the tradition of broadcasting their big life events on live television when their first child arrives this fall.