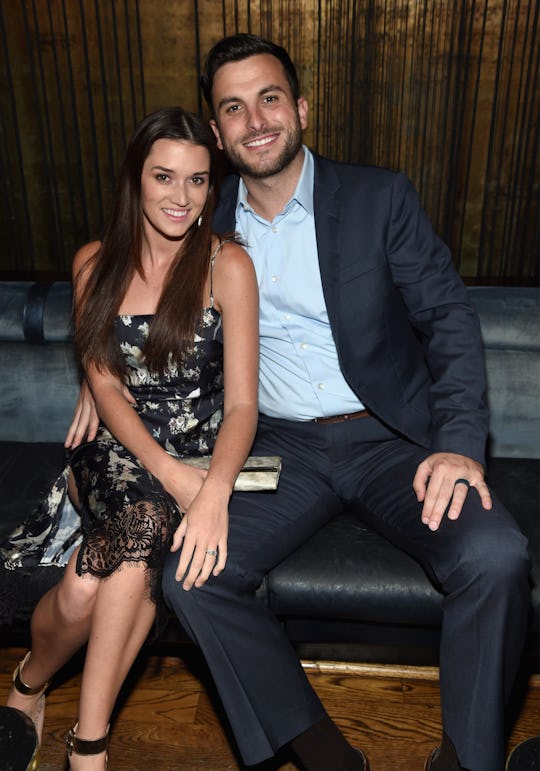 Jamie McCarthy/Getty Images Entertainment/Getty Images
'Bachelor In Paradise's Jade & Tanner Welcome A Baby Girl
The Bachelor universe has blessed the world with another baby. On Thursday, Bachelor in Paradise couple Jade Roper and Tanner Tolbert welcomed a baby daughter into the world, and knowing the couple, they couldn't be happier about the new addition to their family. The newest Tolbert came into the world an entire month before her due date, but the whole family is reportedly happy and healthy.
Roper and Tolbert publicly announced their pregnancy with Entertainment Tonight and again over Twitter in early March and the excitement was evident. Roper was even moved to tears by the news of the coming baby. When mom was 13 weeks along, Tolbert told In Touch Weekly, "Jade cried a little bit. I was just really excited."
The two met on set of Bachelor in Paradise and were quickly swept up in a fairytale romance. After just a few short weeks, they were engaged by the show's season finale and married in January of 2016. Even before the wedding, Roper and Tolbert had babies on the brain. Shortly before the ceremony, they chatted with Entertainment Tonight and shared their plans:
We're definitely going to have kids. When, I'm not sure. In the next year or two, it's possible. We're ready.
It wasn't long after that the two were ready to grow their little family. Roper told E! News as much on the couple's first anniversary:
I feel like I'm ready for that. That's something that was really important to me, was to find somebody who was ready to have a family, and Tanner is at the same stage too so that was definitely very attractive about him.
Baby Tolbert has quite the support system at home. The happy couple shared the secret to their relationship success with Entertainment Tonight. Roper's comments on making her marriage work in the face of hardship are a testament to the strong family behind the little girl:
We really decided to commit, and we've been through the ups and downs just like everyone else. They say the first year of marriage is one of the hardest, and we got married after seven months, so we've learned a lot about each other, and i think it's just that we decided that no matter what, we're going to be there for each other, through it all. I feel like once you make that commitment — no matter what, that's what gets you through.
The baby's early arrival was likely a surprise for mom and dad, but knowing them, it was a welcome one. Congrats to the happy family. We can't wait to see baby pictures.