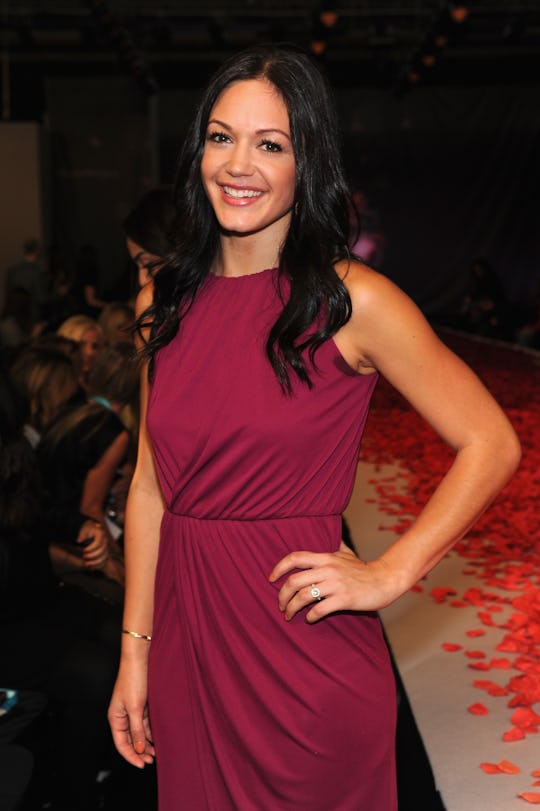 Dimitrios Kambouris/Getty Images Entertainment/Getty Images
Bachelorette Desiree Hartsock Is Pregnant, & Her Announcement Is Adorable
It may seem like an improbable way to start a family, but Season 9 Bachelorette Desiree Hartsock is pregnant and expecting her first child with husband Chris Siegfried. The couple met on the reality dating show and were married in January 2015. Hartsock told Us Weekly that she discovered she was pregnant while the couple was celebrating their anniversary in Hawaii. Hartsock told Us that Siegfried has been a supportive father-to-be, keeping up with her cravings. "Like one day I'm like, 'Babe, I really need Italian.' And then the next, it's Mexican and the next it's dessert for dinner." Same.
The couple's relationship seems like a fairy tale; Hartsock told People that Siegfried "knows how to surprise me with flowers or a simple note to make me feel special and thought of." Siegfried added, "I love that she makes sure she gets a kiss before I leave for work every day." In fact, Hartsock has written a book, My Fairytale Wedding, which is available for preorder now, and due out in paperback on May 17. Hartsock is a fashion designer who specializes in wedding attire and jewelry, and as a veteran of a made-for-TV wedding on top of those skills, she's clearly an expert.
Fans might be surprised that the couple have made it this far; The Bachelorette Season 9 finale opened with Hartsock crying over contestant Brooks Forester, who left the show abruptly just before the final rose ceremony. But it looks like Forester was right to make that decision, as he said on After the Final Rose: "During filming, I could see the way Des looked at Chris. Des came with the objective of finding love and so did Chris and they found that. I tip my hat to them."
But even once Hartsock essentially chose Siegfried by way of sending runner-up Drew Kenney home, she still wasn't quite over Forester; she even went so far as to tell Siegfried, "I was torn apart by Brooks leaving. I loved him, and throughout the journey I was torn between the two of you." Ouch! What kind of proposal is that? Siegfried turned things around by asking her, "Do you want to grow old together? Do you want to share your experiences with me together? Can I share mine with you? Do you want to start a family? Do you want to have kids?" and finally, "I want to be your first, I want to be your last. Will you marry me?" Now that's more like it! And it looks like the two are well on their way to making all of Siegfried's wishes come true.