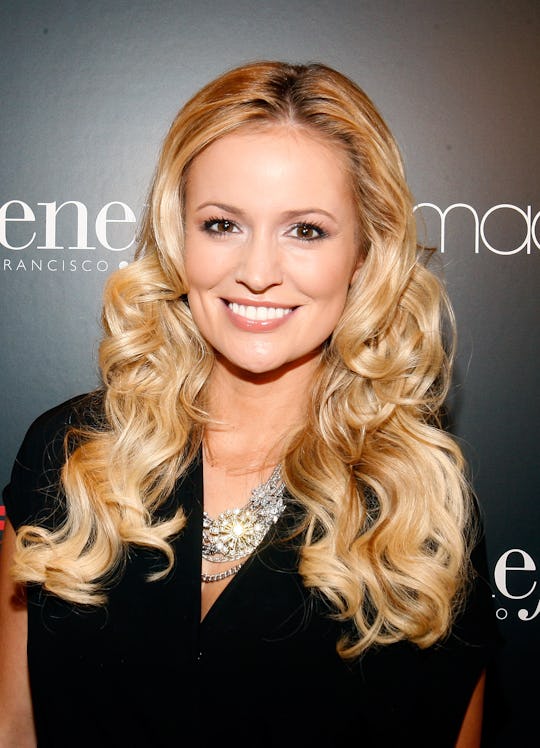 Mike Lawrie/Getty Images Entertainment/Getty Images
'Bachelorette' Emily Maynard Is Pregnant With Her 4th Child
And baby makes four! Bachelorette alum Emily Maynard is pregnant with her fourth child, according to Us Weekly. The news broke when Maynard's husband, Tyler Johnson, shared a short video of the pregnant mom and their young son enjoying some ice cream on a walk. Johnson didn't post the video with a caption announcing the pregnancy, but in the shot, Maynard casually showed off a pronounced baby bump under a blue dress.
Maynard then posted the same video to her own Instagram account with a more explanatory caption confirming the news. "Way too many tacos at lunch," she joked, before getting real with her followers. She continued:
Seriously though, as scared as I am to have 3 under 3, I'm so grateful God picked me to be the mommy to my kids and we can't wait for number 4 to get here!
Maynard and Johnson already have two children under age 3 (Jennings Tyler, 2, and Gibson Kyle, 11 months old), as well as a pre-teen (11-year-old Ricki, who Maynard raised on her own prior to meeting Johnson).
In her Instagram caption, Maynard also shared that she had managed to keep her pregnancy secret for quite a while now, and was pretty far along in her pregnancy. "My little tribe can't wait to meet their new brother or sister (it's a surprise!) in the next couple of weeks!" she wrote. Very sneaky, Maynard.
This fourth pregnancy has also been a fairly rough one for Maynard, judging by her post. "This pregnancy has been filled with lots of hot wings, ranch dressing, an emergency appendix surgery at 6 months, and swollen ankles all day every day but I wouldn't change it for the world," she wrote.
In the past, Maynard has also gotten real about the difficulties that come with raising multiple young children. After giving birth to Gibson, her third child, she told People that it took her a while to get into a rhythm.
"I was in a funk because I just felt so overwhelmed," she told the magazine in December. "That was really mentally challenging more so than physically … Feeling like I'm doing everything halfway has been hard."
For now, though, it seems like Maynard and her husband — who tied the knot in June 2014 — have things under control and have learned to laugh through the challenges. According to Maynard, older sister Ricki has also loved helping out with her younger brothers, so it sounds like the entire brood is excited about welcoming a fourth sibling into the nest.
Congratulations to Maynard and Johnson! Fans can't wait to see baby pictures when baby number four arrives!