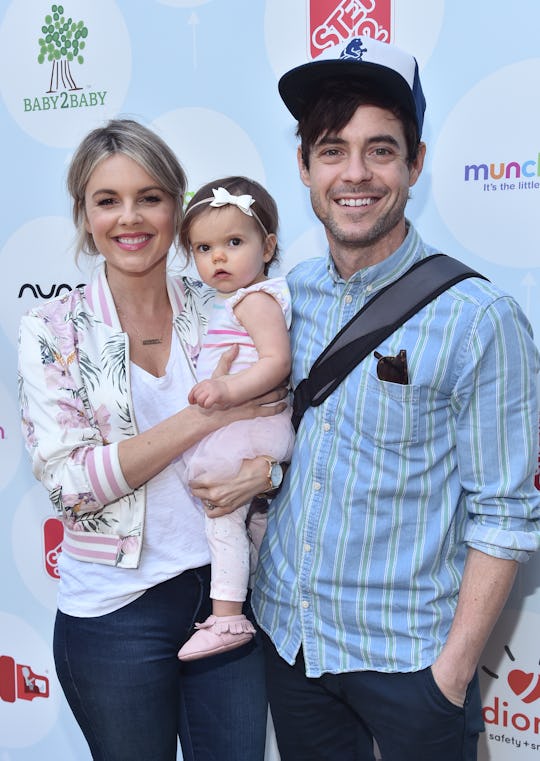 Alberto E. Rodriguez/Getty Images Entertainment/Getty Images
'Bachelorette' Star Ali Fedotowsky Is Pregnant & Her Reveal Is So "Sweet"
In recent years, life has been good for Bachelorette star Ali Fedotowsky, who rose to fame while looking for love. Now, the reality star has a young daughter with husband Kevin Manno, and their lives are about to change in a wonderful way. Ali Fedotwosky is pregnant with her second child, and her reveal on Instagram is so sweet. The Bachelorette star revealed she was pregnant on Thursday with a photo of her and her husband standing, with their daughter Molly pointing to Fedotowsky's stomach, with the caption, "And just like that, life became a whole lot sweeter," Fedotowsky wrote. "#BabyManno #May2018."
Fedotowsky captured hearts when she first appeared on The Bachelor back in 2010, vying to win over Jake Pavelka. Though she initially left the show in order to keep her job at Facebook (which was probably a good call, given that many Bachelor fans consider Pavelka to be one of the biggest villains of the whole franchise), Fedotowsky soon came back as the star of her own season. It turned out, though, that whirlwind televised courtship wasn't the thing for her — she and Manno met offscreen and were friends for a while before falling in love. The couple had their first child, Molly, back in 2016, and got married in March.
Fedotowsky, age 33, has been open about the challenges of motherhood, telling Fit Pregnancy and Baby how she and Manno didn't have anyone else watch Molly for the first eight months of her life, and Fedotowsky needed a break so badly that she "legit had a mental breakdown." But since she learned how to ask for help, she also started making it clear how badly she and Manno wanted to expand their family.
Back in June, Fedotowsky told Us Weekly that she and Manno wanted to have a second child who was close in age to their first, saying:
I wouldn't mind if I was pregnant right now. I'm not, well maybe I am. I don't know. I could be. I don't know if I am. But we're ready. We want another baby and we want them to be close.
And in July, she got even more vehement about it, taking prenatal vitamins and telling Us Weekly:
I would be so grateful if I was pregnant at this very moment. We are 100 percent trying. It's no secret. I want to have another baby and you're supposed to take prenatals.
All that makes Thursday's news even sweeter.
Hopefully this will all lead to a ton of new, adorable photos on her blog, Ali Luvs, where she documents motherhood, along with fashion, lifestyle topics and, of course, Bachelor Nation thoughts.
And even if she has a terrible first trimester full of morning sickness like she did with Molly, Fedotowsky knows it will be worth it. Back during her first pregnancy, she shared a lot of details about how sick she was when she was pregnant with Molly on her blog (think "constant hangover" and trouble going to the bathroom...), but concluded:
when something extraordinary happens in your life, it seems fitting that the road to get there wouldn't be an easy one.
And she has since acknowledged that motherhood has changed her in amazing ways, telling Us Weekly:
I am more loving since becoming a mom. I care about people more. I care about strangers more. I'm kinder, I'm gentler. I like me better because I have a softer edge.
Fedotowsky has come a long way since the world first met her on The Bachelor. Congratulations to her and the rest of her family, as they get ready for a beautiful new baby!