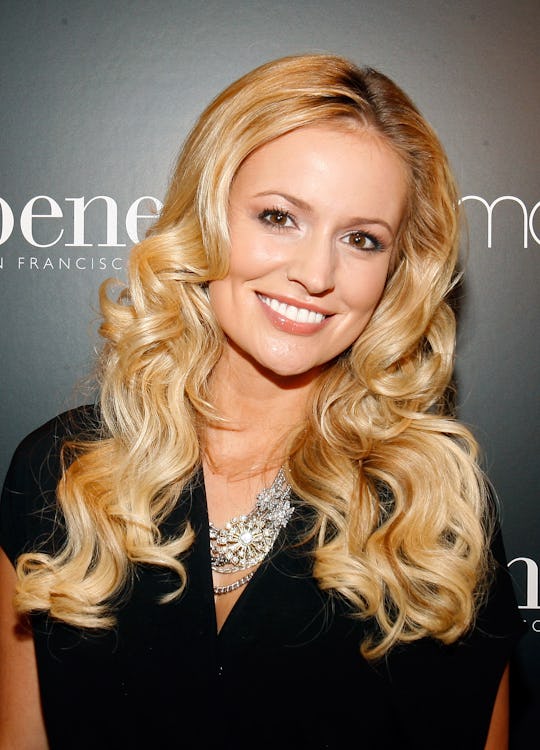 Mike Lawrie/Getty Images Entertainment/Getty Images
'Bachelorette' Alum Emily Maynard Revealed She Had A Scary Emergency Surgery While Pregnant
While announcing that she was pregnant with her fourth child, Emily Maynard revealed she had emergency surgery when she was six months pregnant. The Bachelorette alum added that she could give birth anytime in the next few weeks, but didn't say just when or what the gender was. This will be her third child with her husband, Tyler Johnson — they welcomed Gibson Kyle not even a year ago, and Jennings Tyler, who's 2 years old now. Maynard also has another daughter, 12-year-old Ricki, from another relationship.
Maynard's obviously a pro by now, though it hasn't been all that easy. She wrote on Instagram:
This pregnancy has been filled with lots of hot wings, ranch dressing, an emergency appendix surgery at six months, and swollen ankles all day every day but I wouldn't change it for the world. My little tribe can't wait to meet their new brother or sister (it's a surprise!) in the next couple of weeks!
Apparently, the surgery went well for both mom and the baby-to-be. She's eating well, at the very least. Alongside the picture of her eating ice cream with Jennings, she wrote on Instagram:
Way too many tacos at lunch. Seriously though, as scared as I am to have 3 under 3, I'm so grateful God picked me to be the mommy to my kids and we can't wait for number 4 to get here!
An appendectomy is not rare during pregnancy. It happens in about one out of every thousand cases, according to the U.S. National Library of Medicine. The only way it's diagnosed is when a woman reports a new abdominal pain, as it is with other non-pregnant patients. Like everyone else, appendicitis can also be diagnosed if a pregnant woman is getting headaches, is not hungry, or has heartburn.
Which can all also just be symptoms of pregnancy. so it's important for pregnant women to report everything to their doctors and not feel like they're complaining or being heard by their doctors when they do report pain or symptoms, as studies have shown that they do.
Luckily, Maynard obviously caught it in time and is ready for baby number four. Her pregnancy announcement should not come as a surprise to her fans. Just after giving birth last year, she told People that she wanted to have a fourth.
And let's not forget that she announced her pregnancy with Gibson Kyle just a few months after having Jennings Tyler. She jokingly called herself a "glutton for punishment."
All that "punishment" appears to be worth it, though. Especially when there are "too many" tacos, ranch dressing, and ice cream dates with your sons. What's an emergency surgery when you have all that love?