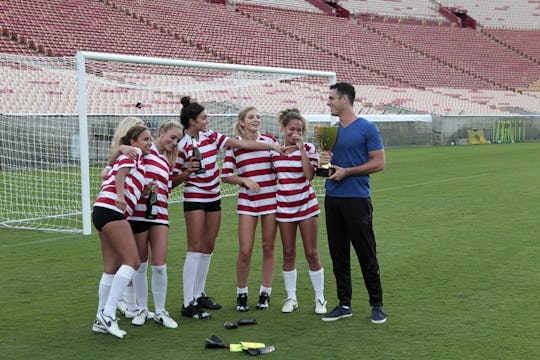 ABC/Rick Rowell
'Bachelor's Lace's Instagram And Twitter Prove The "Villain" Isn't Really One At All
It didn't take long for Lace Morris to be branded as The Bachelor's "villain" this season — in fact, after just a few episodes, Lace had been labeled "the drunk, crazy one" by both dedicated fans and casual viewers alike. When rumors began surfacing this past week that Lace would possibly be making a dramatic, shocking show exit during Monday's third episode, the bad girl inside all of us silently began rejoicing accordingly. Even if Lace does say goodbye, she'll still be around: According to Bachelor gossip king Reality Steve, Lace will appear on The Bachelor Live following the show and will then begin filming for Bachelor in Paradise.
But was Lace getting a bad rap this whole time? There have been hints that she may have been misrepresented, as it appears that Olivia Caridi will pick up where Lace left off and, essentially making Lace look like a calm, cool and put-together woman.
Perhaps Lace was really that way all along. If we take a look at her Instagram and Twitter accounts, it's clear that she's just like the rest of us. She loves to eat, she loves to drink, and she loves to post inspirational quotes every once in a while because, hey, we all need a little pick-me-up. Television — especially reality television — is rarely (if ever) kind, so it isn't too far fetched to assume that Lace was made out to look like a villain during her short-lived time on the show, even if that was the furthest thing from the truth.
Lace may have been The Bachelor contestant we all needed, but she definitely wasn't the contestant we deserved. Here are just a few examples from her social media posts to prove that theory: